Posted on:
13th Dec 2016 /
Categorized:
Book Love
If there's a Lunartic on your list this year, or if you yourself are having trouble deciding what to ask Santa for, here are some ideas to get you started!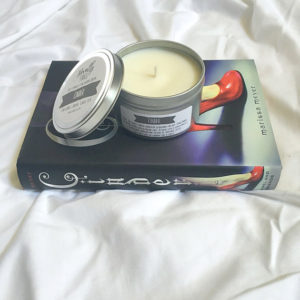 Character Candles by Novelly Yours
I just ordered some of these for myself and they smell SO GOOD! Choose your favorite character (like this yummy "firewood, storms, and white tea" concoction for Cinder), or order the whole set. (And if you loved HEARTLESS, she has delicious "Cath's Lemon Tarts" candles, too!)
*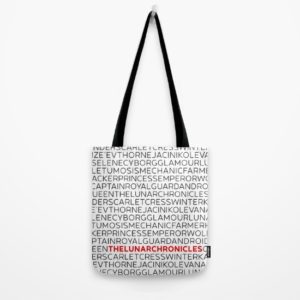 Tote Bag by Miss Phi
There are lots of awesome TLC tote bags (and more!) on Society6, but this is one of my personal favorites. In fact… I should probably let Santa know about this one right away…
*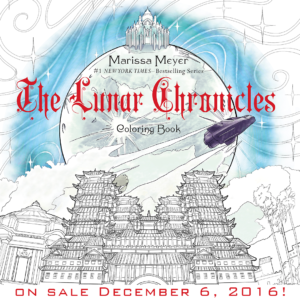 The Lunar Chronicles Coloring Book
Of course, no fan will want to be without the official coloring book, illustrated by Kathryn Gee. (Have you seen it yet??? I LOVE IT SO MUCH.) Throw in a box of colored pencils and you're done!
*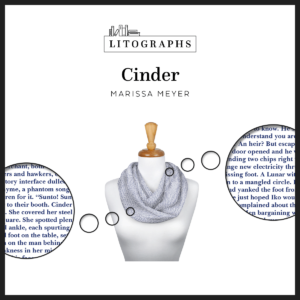 The Cinder Litographs Scarf
A subtle nod to the fandom, this super-soft scarf is printed with text straight out of the book! Choose from a variety of colors and fonts for that truly personalized feel. (Scarves not their thing? Litographs also has T-shirts, tote bags, and posters, with special designs for both Cinder and Scarlet!)
*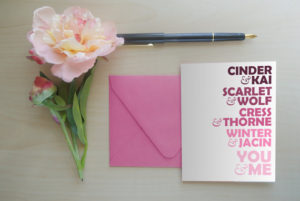 OTP Stationery by PaperYarnMoon
I don't know about you, but I am completely smitten with this adorable greeting card! What better way to say "we belong together" than listing yourself with your fictional OTPs. *dreamy sigh*
*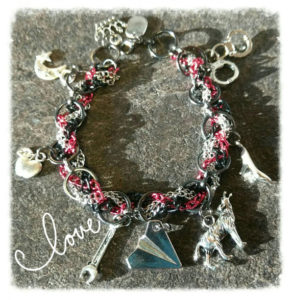 TLC-Inspired Charm Bracelet by NightFoxCreations
Featuring everything from a wolf, a wrench, a moon, and my personal favorite… hand cuffs! (LOL) any fan will love explaining their bracelet to anyone who asks.
*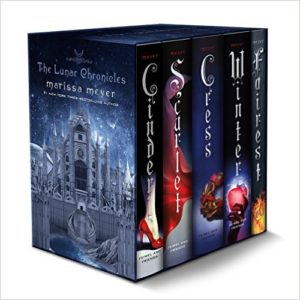 The Lunar Chronicles Boxed Set
For the Lunartic-To-Be on your list, make sure they don't have to suffer through all those cliffhanger endings (like you did) by gifting the whole set at once!
I hope that gives you some fun ideas. Wishing you and yours a very happy holiday season!
Posted on:
9th Dec 2016 /
Categorized:
Cinder
I'll be posting a new deleted scene or excerpt from The Lunar Chronicles every Friday through January 27, spanning the releases of The Lunar Chronicles Coloring Book on December 6 and Wires and Nerve, vol. 1 on January 31.
SPOILERS WARNING: Even though this scene was ultimately deleted (or heavily altered), it still contains information and references to things that did make it into the book. I strongly encourage readers to enjoy the published books before proceeding!
Lunar Chronicles Deleted Scene #2
Okay, you guys wanted to see the original ball scene, so here it is! Some similarities, but a lot of differences, too…
From:  Cinder, 1st draft
Featuring: Cinder and Kai
Naming Notes: Like last week's, Adele later became Adri, Merlin became Dr. Erland, and Coen became Konn Torin.
Helpful set-up: Two semi-important things to know about this early draft to keep from being too confused:
1. Originally, the Lunar gift was much more sorcery-based, to the point where talented Lunars could literally shoot fireballs out of their hands.
2. Part of Cinder's cyborg programming in this early draft included being installed with a "codeword," and anyone who used the codeword would be able to control her. I ultimately decided this was much too similar to Ella Enchanted and removed it, but the concept did become the basis for the Lunar ability to use mind-control.
Also, notice the stuff in ALL CAPS? That's me leaving revision and editing notes to my future self, a tactic I still use all the time!
* * *
She sucked in a quick breath when she emerged from the hallway and found herself standing at the top of a grand staircase that overlooked the ballroom. The high ceiling had been hung with hundreds of crimson paper lanterns, each one glimmering and sending a rich, golden light over the room. The dance floor had been set up in the center, with round tables surrounding the space. Each table was bedecked in tealights and bouquets of orchids and peonies and small jade statuettes. The walls of the room were lined with folding silk screens hand-painted with intricate designs of cranes and tortoises, and each screen was flanked with massive urns filled with green, thriving bamboo stalks. All ancient signs of longevity passed on from the Commonwealth's ancestry that hinted at a single defining message: Long Live the King.
From the vantage point, she could see almost all of the people gathered for the ball, and it was not hard to spot King Kai in the crowd. Her heart swelled to see him alive and safe, grinning and holding a glass of wine in one hand and speaking to a man that Cinder didn't know. He was dressed in the same crimson red tunic he'd been wearing during his address earlier that evening, and his cheeks were slightly flushed—with joy or beverage, she had no idea.
"Good evening, Miss… Cinder, was it?"
Posted on:
6th Dec 2016 /
Categorized:
Coloring Book
Joy and jubilation, the TLC Coloring Book is here!!! And with character profiles, gorgeous settings, and some of my favorite scenes from the books all gorgeously illustrated, it is oh-so-breathtaking!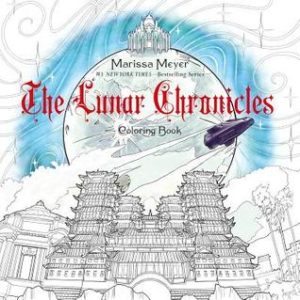 Marissa Meyer's bestselling Lunar Chronicles series comes to life in a coloring book, illustrated by Kathryn Gee! Castles, costumes, and characters inspired by fairy tales are detailed with intricate and decorative drawings, perfect for coloring. Along with new text from Marissa Meyer, The Lunar Chronicles Coloring Book (Feiwel & Friends) is a volume that Lunartics will want to own.
If you haven't gotten a copy yet, it is truly stunning in person, and I really hope you'll all enjoy it. Take a mental break this holiday season and let your creativity (and Lunartic pride) shine!
And if you live near Portland, OR, join me and Kathryn Gee TONIGHT for the Coloring Book Launch Event: https://www.facebook.com/events/1634657396835130/
Posted on:
2nd Dec 2016 /
Categorized:
Cinder
As promised, welcome to the first of nine blog posts featuring deleted scenes from The Lunar Chronicles!
I'll be posting a new scene or excerpt every Friday between now and January 27, spanning the releases of The Lunar Chronicles Coloring Book on December 6 and Wires and Nerve, vol. 1 on January 31.
SPOILERS WARNING: Even though this scene was ultimately deleted from the manuscript, it still contains information and references to things that did make it into the book. I strongly encourage readers to enjoy the published books before proceeding!
Lunar Chronicles Deleted Scene #1
From: Cinder, 1st draft
Featuring: Cinder and Kai
Naming Notes: For clarity, "Adele" later became Adri, "Merlin" (yes, Merlin) became Dr. Erland; and "Coen" became Konn Torin (and pssst, he was originally a villain, secretly working for Levana! DUN DUN DUN).
Editing Notes: I really debated whether or not I should "clean up" the text of these deleted scenes before posting them. Truly, there were times when it was painful for me to read over them and not allow myself to fix this run-on sentence or delete that superfluous adverb, but I thought that posting them in their unedited versions might be useful for some aspiring writers out there to see the text rough and un-polished. Therefore, these scenes have been left untouched, with the exception of very obvious typos or misspellings.
Helpful set-up: This scene took place about halfway through the book, when Cinder went to the palace to see Prince Kai but was met with a crowd of protestors and turned away by the guards. In this initial draft, she didn't have a handy royal android (Nainsi) to alert Kai to her presence, though, so she had to get resourceful… by using her cyborg brain to find a secret passage into the wall, of course!
* * *
At first, nothing happened. But when she pulled harder, she felt something budge, just a little. Putting all the might of her robotic limb into it, she pulled until a slab of interconnected stones pulled out from the wall, and she was left holding a heavy stone-and-grout door and staring into a dark tunnel, filled with cobwebs.
She looked at the guards and, seeing them still preoccupied, climbed into the corridor before she could change her mind. The door was outfitted with handles on the inside too and, with a little bit of grunting, she was able to lift it up and pull it back into place behind her.
It took a moment for her eyes to adjust to the darkness, which she spent brushing the cobwebs from hair and shoulders, glad that years of cleaning attics and chimneys for Adele had left her with a lack of fear of the everyday creepy-crawlies.
Posted on:
30th Nov 2016 /
Categorized:
Coloring Book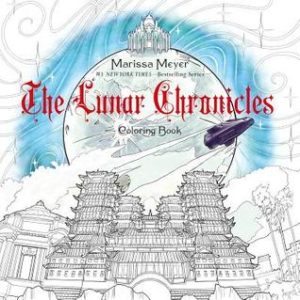 The Official Lunar Chronicles Coloring Book comes out next Tuesday, December 6!
If you happen to live in the Pacific Northwest, I hope you'll join me and illustrator Kathryn Gee for a fabulous night of coloring and fun.
THE LUNAR CHRONICLES COLORING BOOK LAUNCH PARTY
WHEN: Tuesday, December 6, 7:00PM
WHERE: Powell's Books at Cedar Hills Crossing, Beaverton, OR
WHO: Kathryn Gee, fanartist and illustrator of the TLC Coloring Book, and me!
WHAT: Kathryn and I will talk about the origins of the coloring book and the process of making it a reality, followed by audience Q&A and a signing.
WHY: Because… coloring?
And oh yes, colored pencils will be provided. See you there!
Posted on:
28th Nov 2016 /
Categorized:
Coloring Book
So many fun things being revealed today, so let's get started!
The Wires and Nerve Serialization kicks off today!
Every week we'll be releasing a new preview of Wires and Nerve, my first graphic novel that follows Iko, the beloved android, in a brand new, post-Winter story. (Release date: January 31, 2017.)
The first installment is currently available right here at A.V. Club!
A special Cyborg Monday Facebook Livestream with yours truly.
Join me tonight on the Fierce Reads Facebook page, where I'll be talking about Heartless, Wires and Nerve, and The Lunar Chronicles Coloring Book, and answering as many of your questions as I can get to!
Tonight, Nov. 28, at 9:00EST / 6:00PST at http://www.facebook.com/fiercereads.
Find out what Lunar Chronicles character you are by taking this super fun quiz! 
For the record, I'm Cress. Fangirls for the win!
The Cyborg Monday Sweepstakes
Took the quiz? Great! Now enter to win some awesome swag or a Grand Prize that will include The Lunar Chronicles box set, an Iko USB filled with Meyer content, a Litographs Cinder totebag, and more!
TO ENTER: Change your Twitter avatar to your favorite Lunar Chronicles character and tweet with #WiresandNerve and #sweepstakes! 
(Note: As this sweepstakes is being run by my U.S. publisher, I'm afraid it's open to residents of the U.S. and Canada only. Sorry!)
Character Profiles and Downloadable Coloring Sheets
Refresh your memory about all the characters with these super fun character pages, including art from the upcoming graphic novels!
And while you're reading up on the whole Rampion crew, don't miss the "Download" button at the bottom of each page – where you can download advance coloring pages from the official coloring book, which isn't in stores until Dec. 6!
The Scarlet Litograph Design Contest Winner
A HUGE congratulations to Nika, who created this stunning design, which will be available on Litographs T-shirts, tote bags, and posters later this week… just in time to share the Lunartic love for the holidays!
AND FINALLY…

Deleted Scenes, Coming Your Way!
For years I've received dozens, nay, hundreds of requests to release some deleted scenes that never made it into the final, published books of The Lunar Chronicles.
Ask and ye shall receive! In celebration of the Coloring Book and Wires & Nerve, every week starting this Friday through the end of January I will be posting a deleted, never-before-seen* excerpt or chapter from the books. So stay tuned!
*Okay, one or two of them were included in various blog tours years ago, but for the most part they'll be all new. 
Happy Cyborg Monday, Lunartics!
Posted on:
23rd Nov 2016 /
Categorized:
Book Love
This is a big weekend coming up, not just with Thanksgiving and Black Friday, but also Small Business Saturday and Cyber… er, I mean, CYBORG Monday. But before we all get swept up in holiday shopping and festivities (and all the many Lunar Chronicles announcements we're going to make next week…), I wanted to write about the day that captures the feel of the holidays much more than any cheaply-priced flat-screen TV ever could…
If you're not familiar with Giving Tuesday, it's joined the annual Thanksgiving weekend line-up as the day in which people all over the world are encouraged to volunteer their time or money in support of a cause that's important to them. Of course there are a BILLION different charities and organizations that one can choose to support, but I thought I'd take this chance to highlight some of my personal favorite literacy-based organizations for my fellow book lovers.

REACH OUT AND READ
This clever organization works directly with pediatricians in order to supply age-appropriate books to their young patients, and include family-reading time as a part of their overall health and development plan. For many children who benefit from this program, the book(s) they receive from their doctor are the only books they own.

FIRST BOOK
Through the use of a "book bank," this fantastic program uses a network of educators and community leaders to provide books, educational resources, and even some basic necessities (such as band-aids) to children in under-served communities, with the overall goal of reducing educational inequality for children in impoverished areas.

NANOWRIMO
Yes, yes, NaNoWriMo is an awesome annual motivator to push us writers into gear, but they are also responsible for the Young Writers Program, which reaches over 80,000 students and educators through special programming and free classroom kits, helping them develop their writing skills and nourish their creativity.
LOCAL OPTIONS
If you're the type of giver that prefers to keep it local (fair enough!), here are some ideas for supporting your own community:
Your local library: Libraries are more than just places to check out free books (though that is, of course, an awesome service) – they also tend to be community spaces that host year-round events, from author visits to children's story times, but they often require funding above what they receive from the government to accomplish their goals.

Prisons & Detention Centers: Illiteracy and a lack of education go hand in hand with crime rates. Many prisons and detention centers host educational programming for their inmates and/or book clubs to encourage reading and open discussion. Such programs can go a long way toward helping inmates connect with the outside world and avoid re-offending once they're released.

Schools & Hospitals: If you're not able to donate financially but have a stack of books lying around that you'd like to find good homes for, try asking your local schools or hospitals. Many are eager to have fresh reading material for their libraries.
Want more information on charitable giving? CharityNavigator.org is an excellent resource for finding causes that speak to your heart.

I hope that gives you some ideas for next Tuesday… or any time of year, for that matter…
Happy Thanksgiving, everyone!
Posted on:
21st Nov 2016 /
Categorized:
Coloring Book
This is one of those days where I have about 8 million things to cover, so let's get to it!

First off – Author Promo FAIL! In all the excitement of HEARTLESS releasing, I completely forgot to MENTION IT ON MY BLOG. So, if you happened to miss it…
Heartless is now out in the world!! Yippee!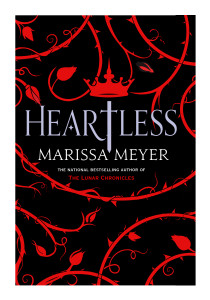 In fact, I am THRILLED to announce that it hit #1 on the New York Times Young Adult Bestsellers List!! Thank you so much to everyone who has supported me and my first stand-alone novel. *squishes all the readers*

That's not all… Heartless also a Goodreads Choice Finalist! If you haven't yet voted for your favorite books of the year, cast your vote today!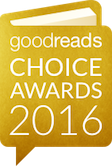 While you're busy voting for things, don't forget to cast your vote for your favorite design in the Scarlet Litographs Contest! (It's a tough choice, but somebody's got to make it.)

Plus a couple of super cool things were brought to my attention on social media this week, including…
Heartless in the New York City subway! (Say what?!)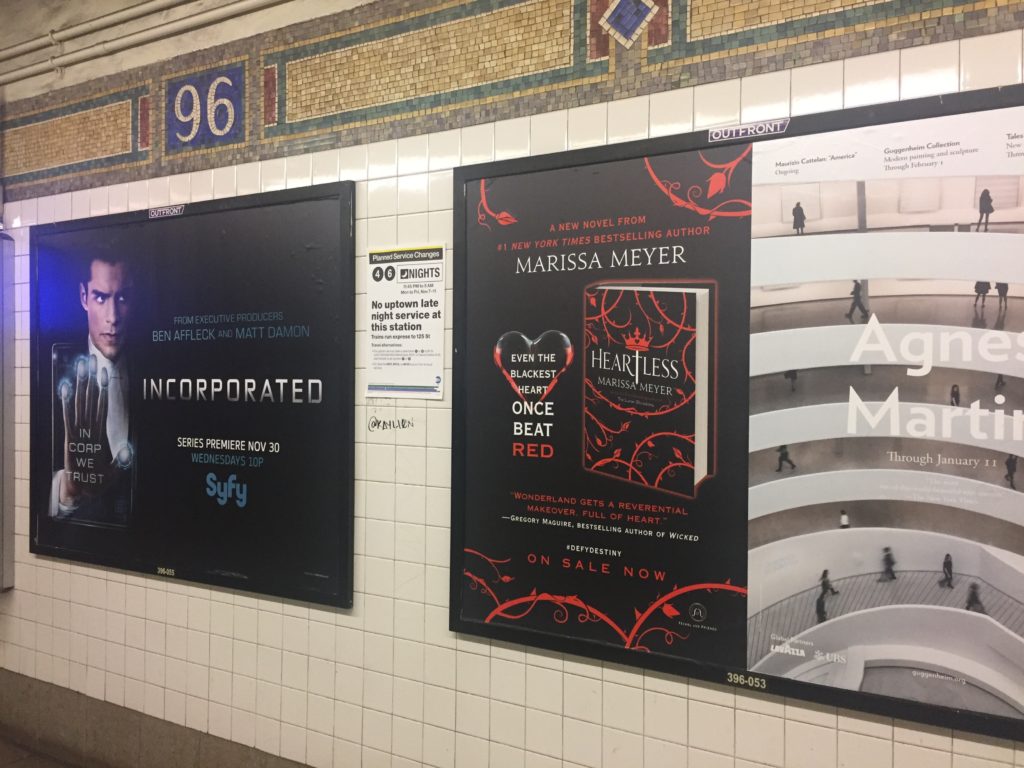 Bonus: CHECK OUT THAT BLURB FROM GREGORY MAGUIRE, OH MY HEART.

And… I'll take "Bizarre Moments in Marissa's Life" for a thousand, Alex.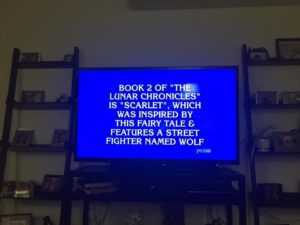 Last thing – our annual Cyborg Monday is coming up!! Keep your eye out on Twitter next Monday, 11/28, for TONS of news and announcements for The Lunar Chronicles and Wires & Nerve. (If you miss it, I'll post a full re-cap right here on Tuesday.)

Plus – set your alarm for my Facebook Live Chat, happening Monday at 9:00pm EST / 6:00pm PST on the Fierce Reads Facebook page. I'll be talking about some fun new things we have coming up, and will answer as many questions as I have time for!

Okay, I think I got it all. BAM.