Posted on:
30th Jan 2018 /
Categorized:
Giveaways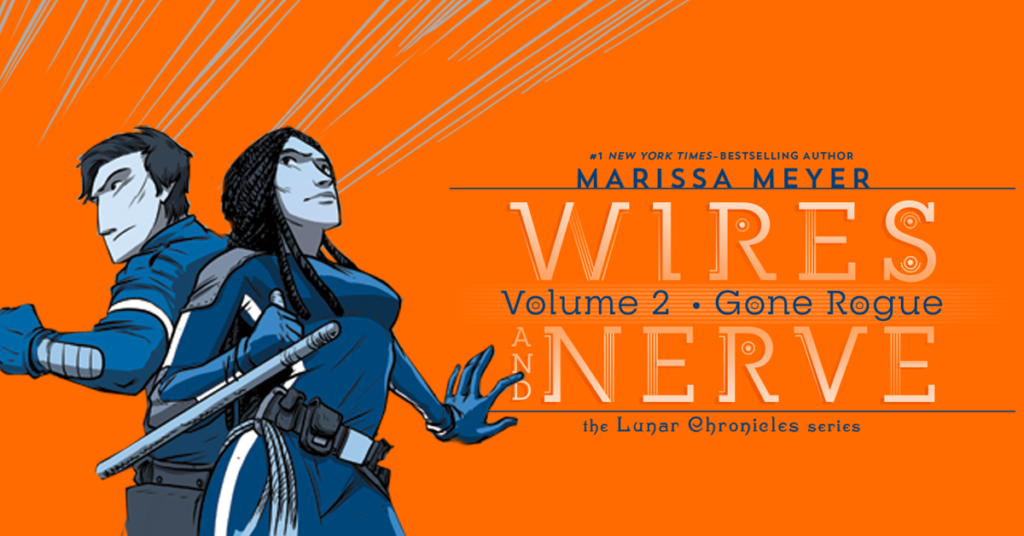 IT'S HERE!! The conclusion to Wires and Nerve is out in bookstores today, with plenty more Iko, Kinney, and the entire Rampion crew! I had SO MUCH FUN writing this graphic novel and working with the immensely talented Stephen Gilpin, and I can't wait for you guys to read it!
EVENTS
TONIGHT – Salt Lake City, UT
Tuesday, January 30th, 7:00pm
Larimer Auditorium at Rowland Hall Upper School
Hosted by The King's English Bookshop
Come meet me, talk about Wires and Nerve and The Lunar Chronicles, and get your book signed!
*This is a ticketed event, so please check with The King's English to get your ticket!
---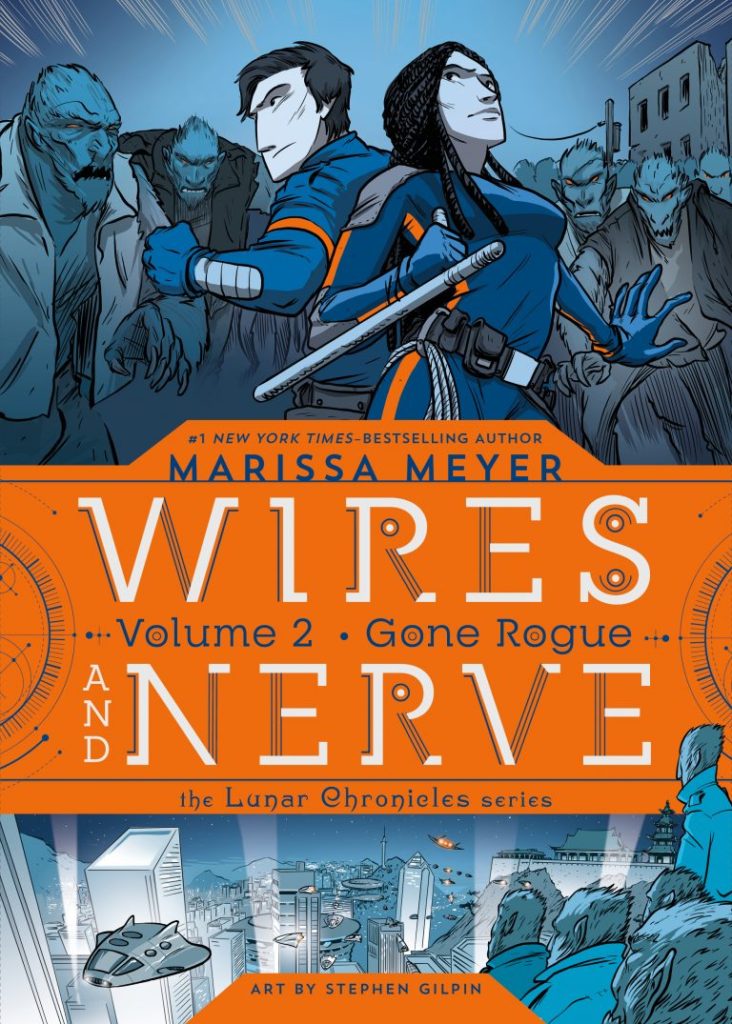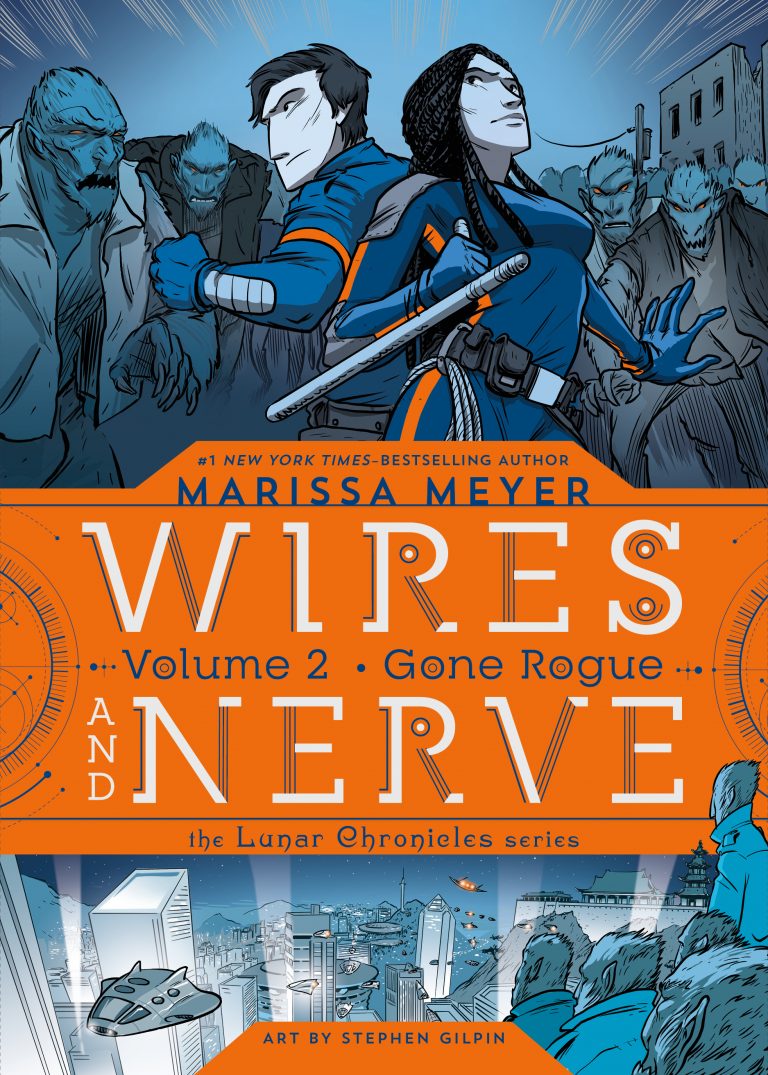 The world of the Lunar Chronicles comes alive in this thrilling continuation of Wires and Nerve.
All your favorite characters are featured in an epic new battle. But it's Iko who must face her deepest fears when she uncovers the truth about her own unusual programming. Questions of love, friendship, and mortality take Iko on an emotional journey that will satisfy and delight fans of this bestselling series.
---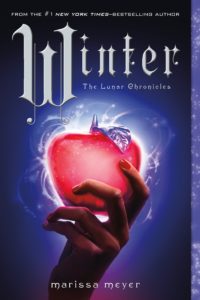 In other news…
WINTER is now in paperback!
For all you paperback readers out there, the Winter paperback finally goes on sale TODAY, Tuesday, 1/30!
The final book in the #1 New York Times– and USA Today–Bestselling Lunar Chronicles series by Marissa Meyer. As the story draws to a close, our team of fairytale heroines must join forces with wicked Levana's own stepdaughter to stop the evil queen once and for all—or lose everything.
Fans will not want to miss this thrilling final installment in the national bestselling Lunar Chronicles series, available now!
---

Just in time for Valentine's Day, Fierce Reads is running a HEARTLESS fan art contest! Submit your HEARTLESS-themed fan art on Instagram using #HeartlessFanArtContest and tagging @FierceReads by 2/9, and you could win a signed copy of HEARTLESS and a seriously awesome prize pack. Finalists will be chosen by me and announced on Valentine's Day, then fans will vote to decide the winner! I'm so excited to see what you come up with. Click below for more details!
Posted on:
2nd Jan 2018 /
Categorized:
Book Love
Happy New Year!! This post is an annual tradition, where I look back over all the books I read and what was holding my attention over the past twelve months.
I must say, looking back over my 2017 reading list was easily the most surprising of all the years I've been blogging about books and writing. Because for the first time ever, I read more non-fiction than any other genre! Wha?? And by non-fiction, I pretty much just mean self-help. This year became my year of studying nutrition, food politics, and (a semi-related off-shoot) general minimalism, all of which I largely blame Michael Pollan's IN DEFENSE OF FOOD for. (More on that below.)
But the result of reading all that non-fiction is that by the end of the year I was DESPERATE to read some YA, and now at the start of 2018 I am looking at my poor, abandoned TBR pile, and oh-so-many amazing series that I still haven't finished (or in some cases, started!) and I am eager to dive into some romance and adventure in the new year.
Here are my 2017 reading stats, my top ten of the year, and the full list of books below.

STATISTICS
Total Books Read: 67
The breakdown:
Non-fiction: 26
     Further broken down into:
Food & Health: 12
Productivity: 6
Minimalism: 4
Other self-help: 4
Young Adult: 15
     Further broken down into:
Contemporary romance: 9
Fantasy / urban fantasy: 5
Suspense: 1
Graphic novels: 15
Middle grade: 8
Fiction (suspense): 2
Fiction (classics): 1
TOP TEN FAVORITE BOOKS I READ THIS YEAR
(In alpha order by author.)
The Chaos of Standing Still by Jessica Brody
I've been a big fan of Jessica Brody's for years, and I think this is her best work yet. It combines her signature light-hearted romance with a deeper story focusing on grief and friendship and I loved it. As the book takes place in an airport during a snowstorm, it's a great one to pick up this winter!
The Book of Joy by His Holiness the Dalai Lama and Archbishop Desmond Tutu with Douglas Abrams
It's rare that I think of a book as "life-changing," yet there are TWO book on my list this year that I feel truly changed the way that I live my life. This is the first. I dare you to read it and not find your entire point of view – on your own life and the lives of those around you – shifted. It is uplifting and beautiful, thought-provoking and wise.
The Miracle Morning: The Not-So-Obvious Secret Guaranteed to Transform Your Life Before 8am by Hal Elrod
This is one of those books that must have been recommended to me by five or six different people before I finally picked it up, and once I read it, I could clearly see why it has so many devotees. Although I'll admit that I have fallen off the early-morning bandwagon somewhat since I first read this, a lot of the habits have stuck, including daily visualizations and journaling, two things I never used to do, but now feel a huge shift in my day whenever I make time for them.
To All the Boys I've Loved Before by Jenny Han
I am such a late comer to Jenny Han, but since reading this one in November, I've added her entire backlist to my TBR. I adored the "Little Women" vibe of the sisters' relationship. And of course – there is plenty of sweetness and swooning. Always with the sweetness and swooning.
Wonder by R.J. Palacio
I put this one off for a long time because I knew it would make me cry, and of course it did, but I was surprised at how heart-warming the book ultimately was. It's the sort of book that I feel should be required reading for all of humanity. A beautiful story, beautifully told.
In Defense of Food by Michael Pollan
And here is the second life-changing book on this list (at least, I was inspired to make unexpected life changes after reading it). I had few expectations when I picked this one up, other than I'd heard it was good, but reading it ignited such a curiosity to learn more and more about all the problems associated with a typical western diet (i.e., sugar and overprocessing), which led to learning about factory-raised meats and dairy products, which led to learning more about all the associated politics in the food industry, and on and on. Truly, I don't think a book has had such a huge impact on how I live my day-to-day life as this one (well, and maybe David Allen's GETTING THINGS DONE, which I read a couple of years ago and I'm still heartily devoted to his method, but that's another story). Anyway, as a result of IN DEFENSE OF FOOD and the other nutrition-related books I read in 2017, my family and I have just about transitioned to an entirely unprocessed diet, and have gone probably about 80% vegan. It wasn't really planned or intended, but there it is. I can't say it's made an enormous difference in how I feel physically, but it does feel incredible to be living more in line with my values of caring for the planet and the welfare of animals. So. Life. Food. Oversharing. There's that. If you have even the slightest curiosity in the modern food industry, read this. It's fascinating.
Thornhill by Pam Smy
And for something completely different (ha) – this book was so good! The art is spooky, the story is engrossing, the end gave me chills, and while I'm often disappointed in books that try to be too clever and artsy with their formatting (in this case, half the book is told in a diary entries, the other half in illustrations), here it really worked.
Strange the Dreamer by Laini Taylor
Another Laini Taylor masterpiece, and no one is surprised! This book is everything. Imaginative. Romantic. Whimsical. Dark. Brilliant. Though I read it back in the spring, it's definitely one of those books that has stayed with me since. Now if only the sequel would get here!!!
Ghosts by Raina Telgemeier (graphic novel)
I read some really amazing graphic novels this year, but I think GHOSTS takes the prize as my favorite. I really adore Raina Telgemeier's art style and the way she's able to bring together various plotlines to make the story approachable and fun but also meaningful and unexpected.
Eliza and Her Monsters by Francesca Zappia
This was another friend recommendation, and I am so glad I read it! There is a LOT I could say about this book – it's charming, it's sweet, it's thought-provoking, but mostly I think the reason I loved it so much was because of how very relatable Eliza's character was, and how much she reminded me of… well, teenage Me, when I would spend hours and hours writing and posting fanfiction. The book really captures how people who create in a fandom (and in some cases, build up a fan-following themselves) really do feel like we're two different people – on-line and off – and how it can be hard to balance those two identities. Francesca Zappia captured all of Eliza's emotions and reactions so believably, and brought back a lot of nostalgia for me – a neat bonus on top of an engaging, deeply moving story.
Though those are my favorite books read last year, there were plenty more that I loved and would heartily recommend. Read on for the full list of books I read in 2017:
Posted on:
28th Nov 2017 /
Categorized:
Marketing & Promotion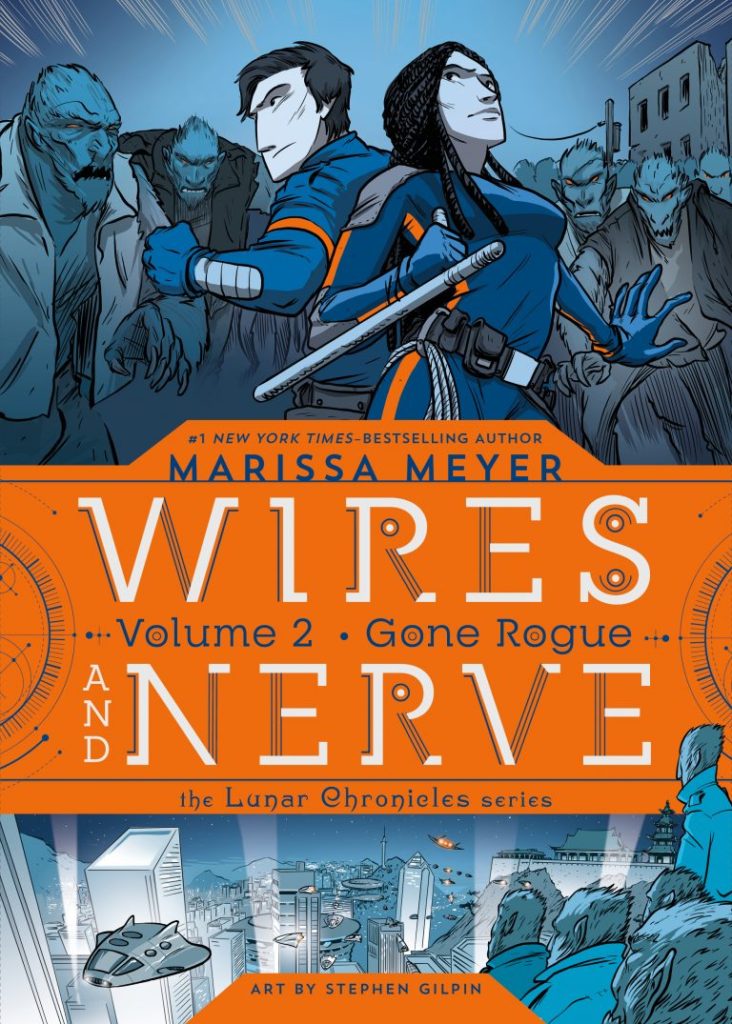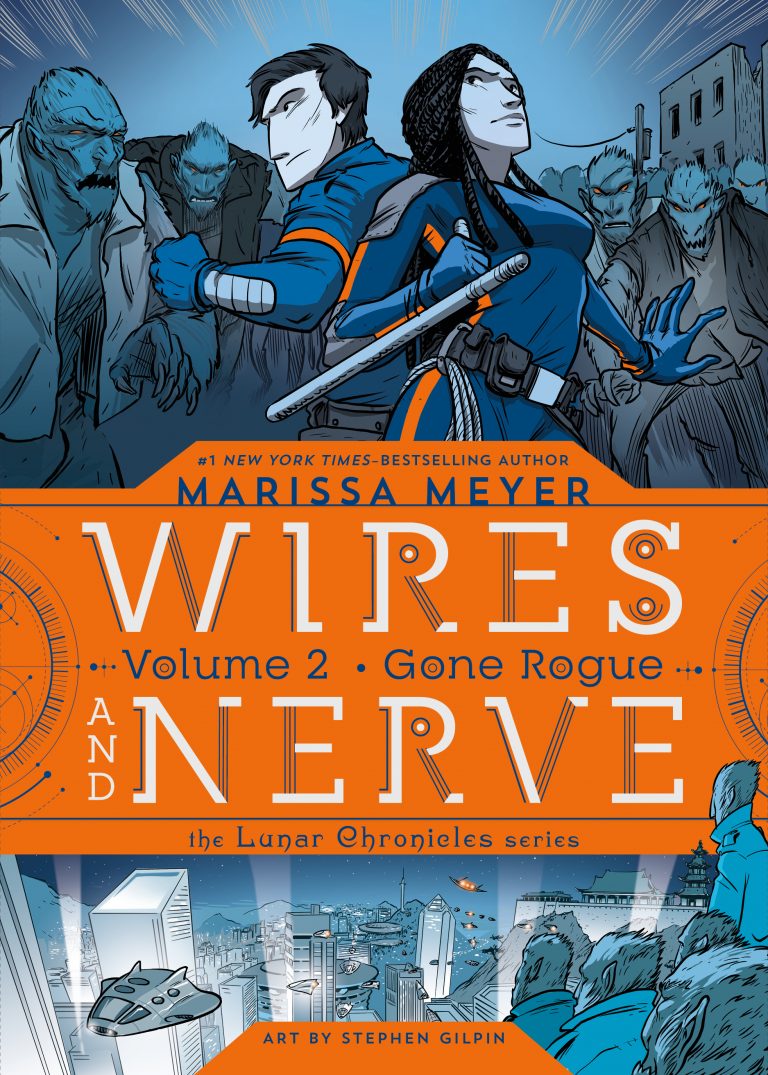 Did Renegades just come out? YES! Am I so wonderfully thrilled to hear all of the kind things readers have been saying about it? YES! Am I hard at work on making Renegades 2 the absolute best sequel that I can possibly write for you guys? YES!
But am I also REALLY SUPER EXCITED to start talking about the continuation of Wires and Nerve?
Oh stars above, YES YES YES!
In fact, WIRES AND NERVE, VOLUME 2: GONE ROGUE might just be my favorite thing that I have ever written (shhh, don't tell my other books!), and I cannot wait for you guys to be able to read the rest of Iko's story on January 30!
And yesterday, being the annual #CyborgMonday, we announced some fun new things for your enjoyment!
---
ABOUT WIRES AND NERVE: GONE ROGUE
The second graphic novel, and sequel to Wires and Nerve, Volume 1, from #1 New York Times and USA Today Bestseller Meyer!
The world of the Lunar Chronicles comes alive in this thrilling continuation of Wires and Nerve . Iko—an audacious android and best friend to the Lunar Queen Cinder—has been tasked with hunting down Alpha Lysander Steele, the leader of a rogue band of bioengineered wolf-soldiers who threaten to under the tenuous peace agreement between Earth and Luna. Unless Cinder can reverse the mutations that were forced on them years before, Steele and his soldiers plan to satisfy their monstrous appetites with a massacre of the innocenct people of Earth.
And to show he's serious, Steele is taking hostages.
Cinder and Kai, Scarlet and Wolf, Cress and Thorne, and Winter and Jacin all feature in this epic new battle. But it is Iko who must face her deepest fears when she uncovers the truth about her own unusual programming. Questions of love, friendship, and mortality take Iko on an emotional journey that will satisfy and delight fans of this bestselling series.
---

Yesterday we revealed a brand-new excerpt from the book! 
---

Just announced! If you preorder Wires and Nerve, Volume 2: Gone Rogue and submit your receipt, you'll get one of these fun Iko prints, signed by yours truly!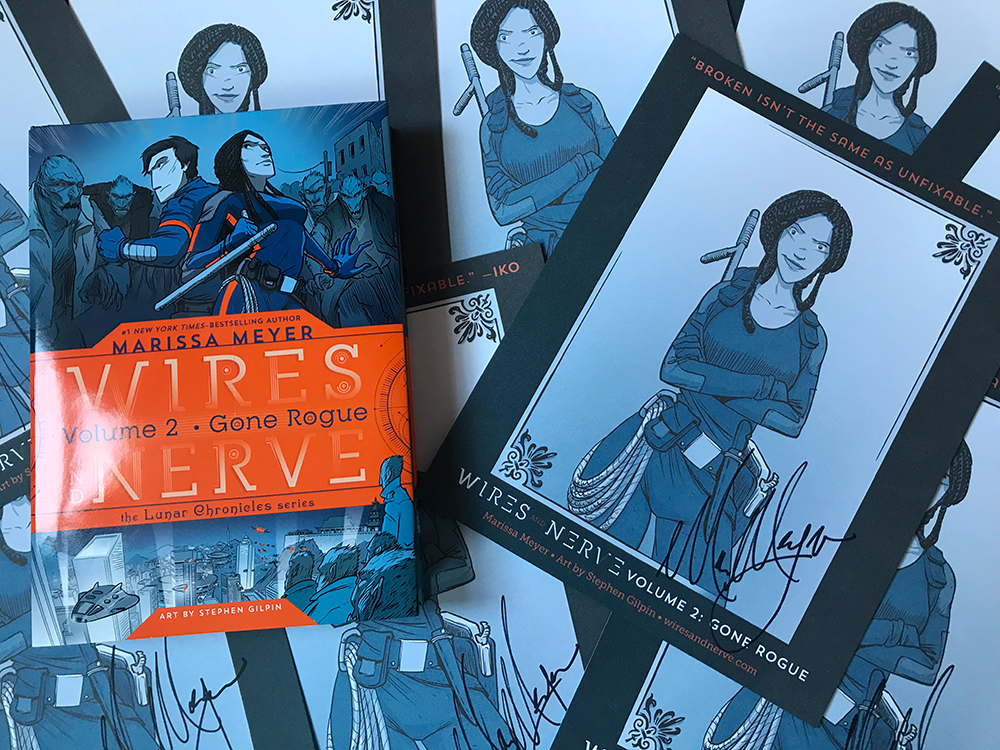 The small print: Limited time offer. You must electronically submit proof of purchase of Wires and Nerve, Volume 2: Gone Rogue by Monday, January 29, 2018 to take advantage of this offer. Offer limited to residents of 50 US states and DC only. Void in Puerto Rico and where prohibited by law. For Official Rules, go here. Sponsor: MCPG.
---

If you missed last night's chat on the Renegades Discussion Boards, all my answers are still posted! Check it out here, then feel free to talk amongst yourselves….
Let the countdown begin!!
Posted on:
22nd Nov 2017 /
Categorized:
Renegades
I LOOOOOOOVE when international publishers design their own unique book covers. It is so much fun for me to see the different takes on the story and what publishers think will appeal to the readers in their country, and I'm getting SUPER excited to start seeing what will be done with RENEGADES!
And to kick it off, I am so thrilled to be revealing the cover for RENEGADES from my UK publisher, Pan Macmillan!
Check it out!!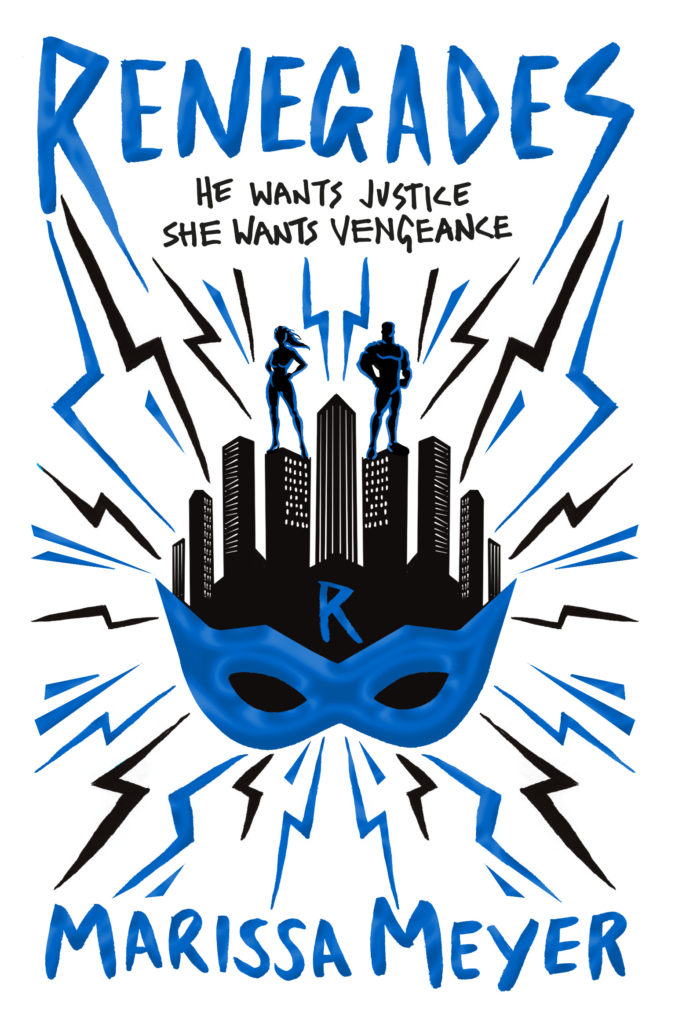 *gasp* *starry eyes* *effusion of hearts*
Isn't it fabulous??? I absolutely love how they've captured the superhero / comic book vibe of the story, while also managing to tie it in to their version of HEARTLESS!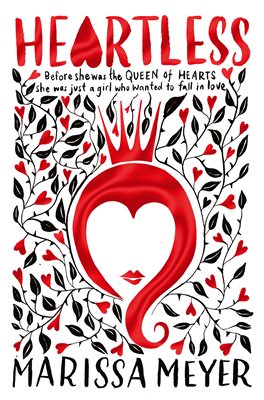 Love. Love. Love.
RENEGADES will release in the UK on 5 April 2018!
Learn more or pre-order your copy here: https://www.panmacmillan.com/authors/marissa-meyer/renegades
(You can see more of my foreign book covers on this Pinterest board.)
Posted on:
7th Nov 2017 /
Categorized:
News
HAPPY LAUNCH DAY!!!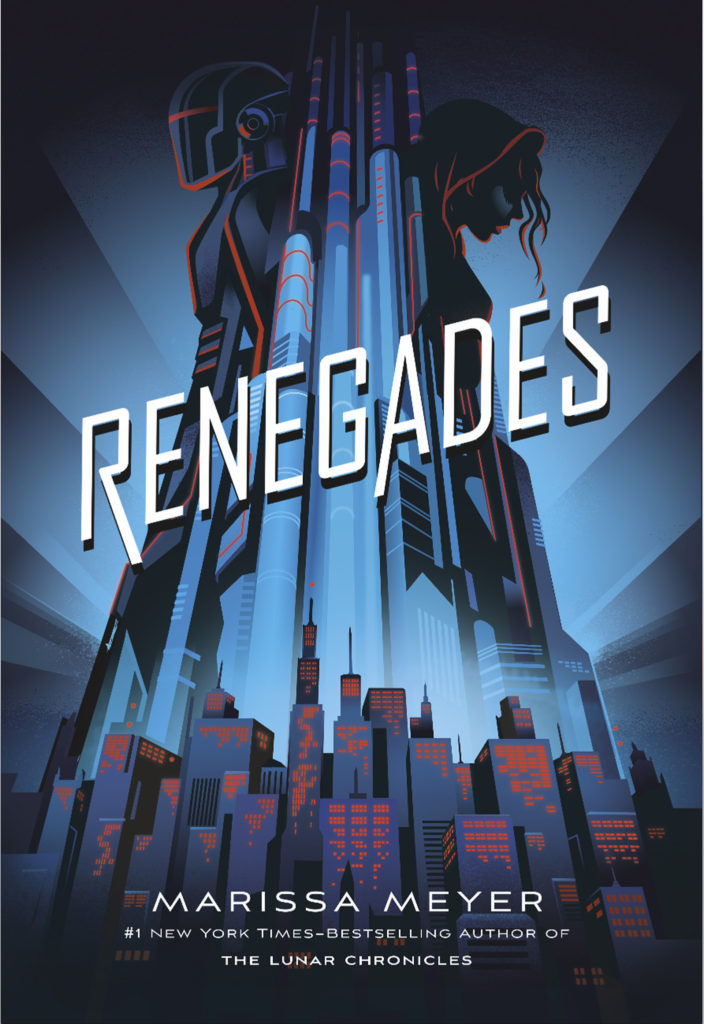 I am soooooooo excited, verklempt, thrilled, ecstatic, and – to be honest – a little amazed that RENEGADES is actually, finally, officially here. You can find it today, wherever books, audiobooks, or ebooks are sold!
I cannot WAIT for you to meet Nova, Adrian, and all the heroes and villains of Gatlon City. I truly hope you will love this book.
About Renegades
Secret Identities
Extraordinary Powers.
She wants vengeance. He wants justice.
The Renegades are a syndicate of prodigies—humans with extraordinary abilities—who emerged from the ruins of a crumbled society and established peace and order where chaos reigned. As champions of justice, they remain a symbol of hope and courage to everyone… except the villains they once overthrew.
Nova has a reason to hate the Renegades, and she is on a mission for vengeance. As she gets closer to her target, she meets Adrian, a Renegade boy who believes in justice—and in Nova. But Nova's allegiance is to the villains who have the power to end them both. 
WHAT NOW?
Once you've read the book (or while you're waiting to get your hands on it), here are some things to keep you occupied!
– Check out the book tour line-up to see if I'll be in a town near you.
– Come talk superpowers, character ships, and Book Two theories on the new Renegades discussion boards.
– Start getting to know all the characters, good and bad, on these super cool character pages.
– Take the quiz to find your superpower and pledge your allegiance to the Renegades or the Anarchists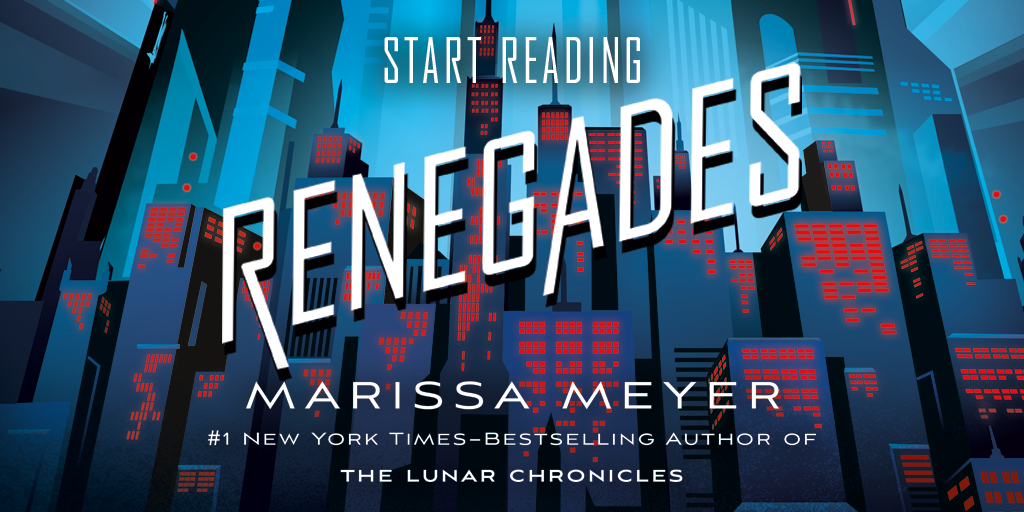 Posted on:
24th Oct 2017 /
Categorized:
Renegades
I am SO HAPPY that the team at Macmillan Audio chose the phenomenally talented Rebecca Soler as one-half of the narration team for RENEGADES! Rebecca narrated all of the Lunar Chronicles books AND Heartless. She is absolutely amazing and I've felt so lucky to work with her, and now she will be bringing our villain, Nova, to life.
On top of that, RENEGADES marks the first time in which I get a second narrator, and I'm so pleased that Dan Bittner will be reading from the point of view of Adrian.
The audiobook will be available on November 7, the same day the books go on sale – but here is a sneak preview for your listening pleasure.
CLICK HERE TO LISTEN TO THE EXCERPT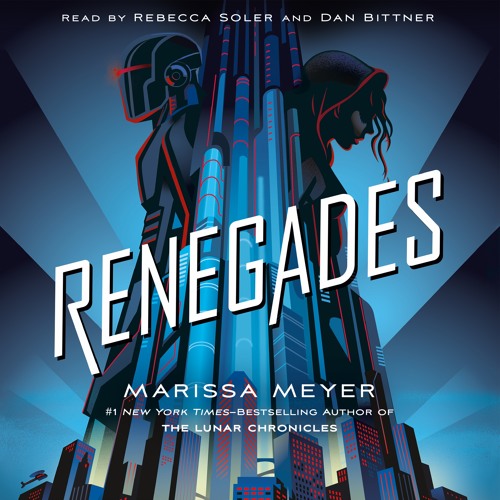 Posted on:
23rd Oct 2017 /
Categorized:
Renegades
Last Friday I announced the winners to the #WinRenegades Create a Superhero (or Villain) Contest on Instagram, and I'm excited to be able to share them here, too!
I am absolutely enamored with all five of these characters, and can't wait to figure out how the grand prize character is going to fit into the story arc of the RENEGADES sequel!
On top of that, it has made me SO HAPPY to hear how many people who entered this contest have been inspired to take their characters and start writing new stories with these creations at the helm. That is the best possible result that I could have hoped for. I wish you many happy words and crazy plot twists! (And perhaps even a few NaNoWriMo novels? It is that time of year, after all…)
Without further ado, here are our winners!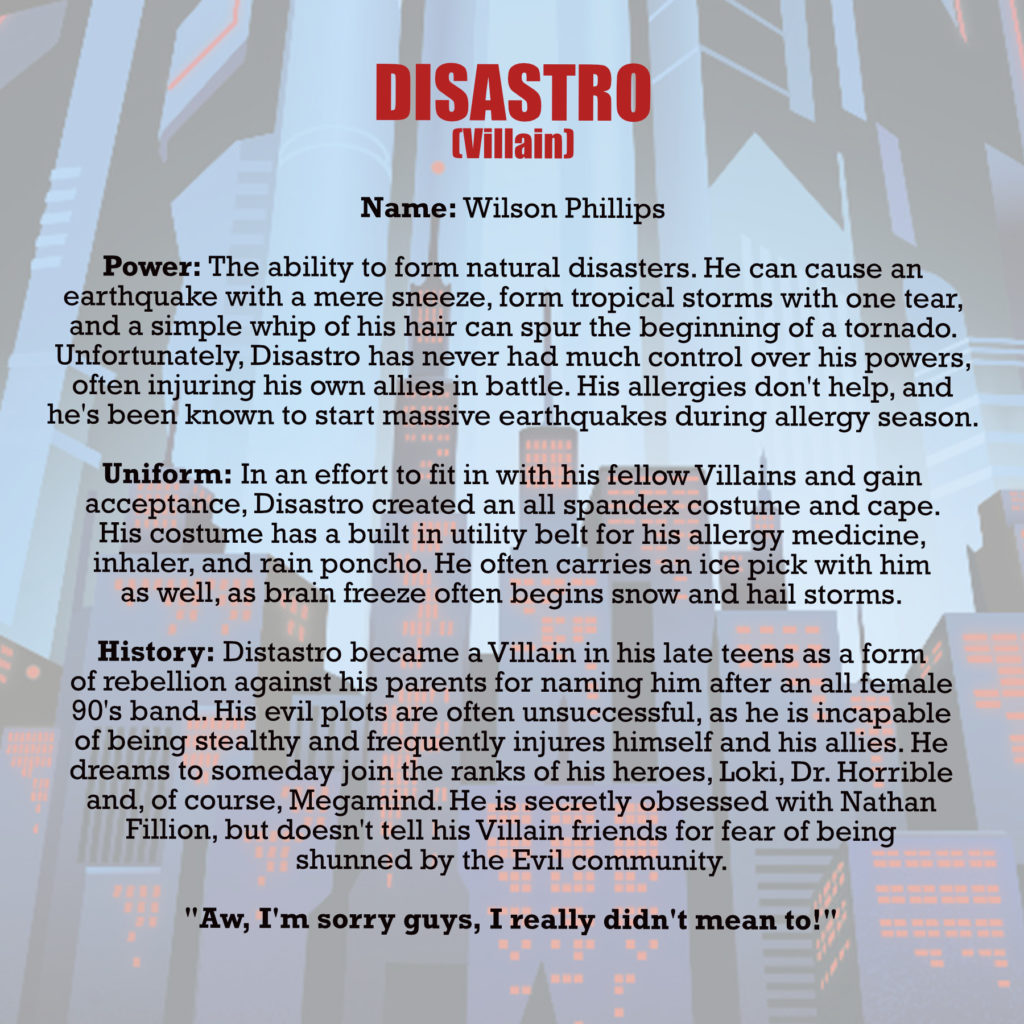 "DISASTRO" created by Erin Fehres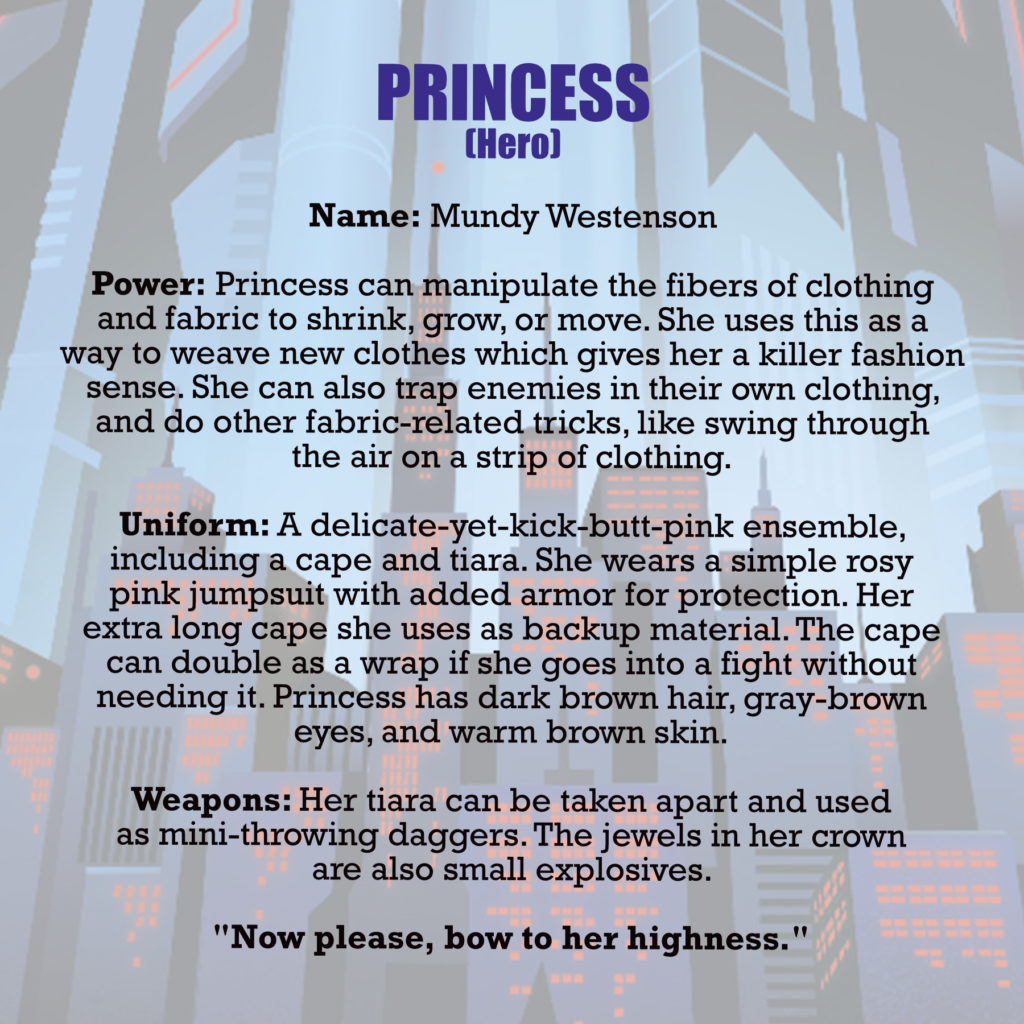 "PRINCESS" created by Jordan Mundy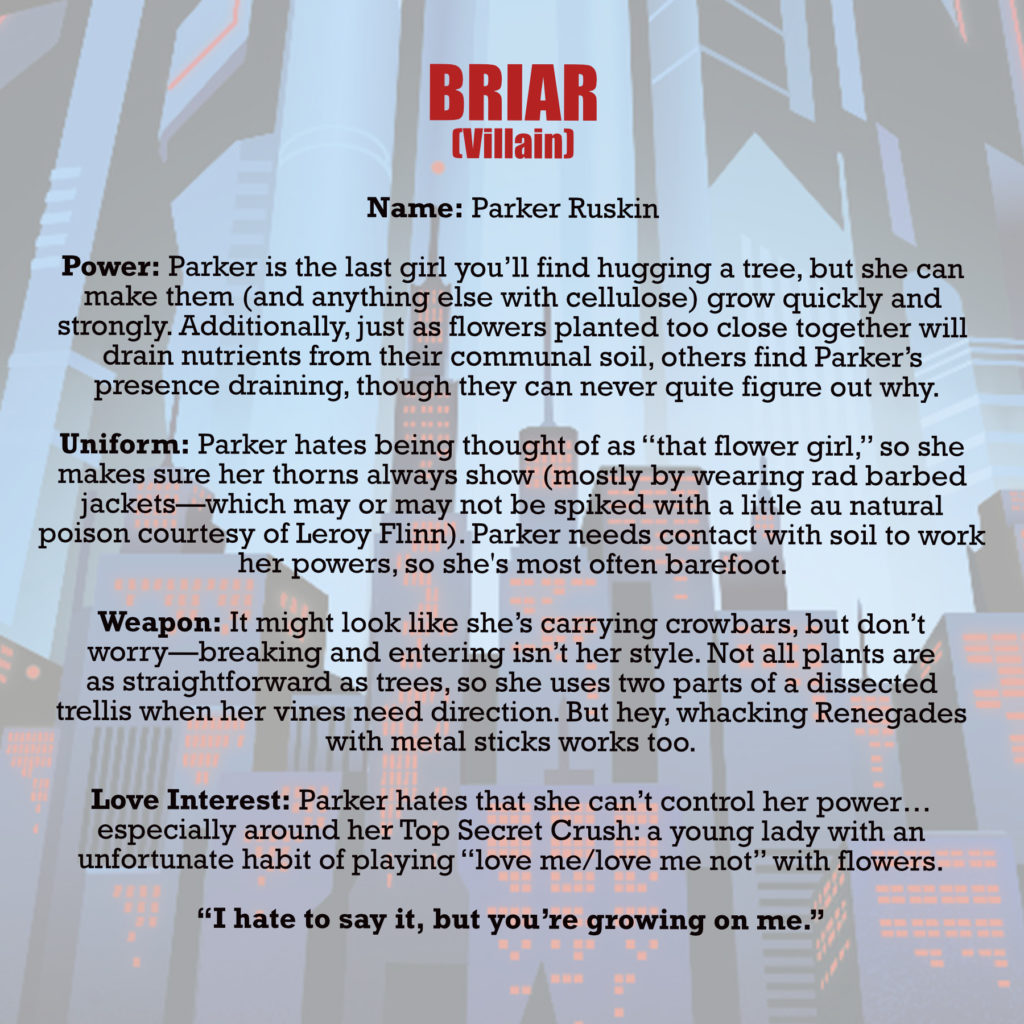 "BRIAR" created by Jadyn N. Marshall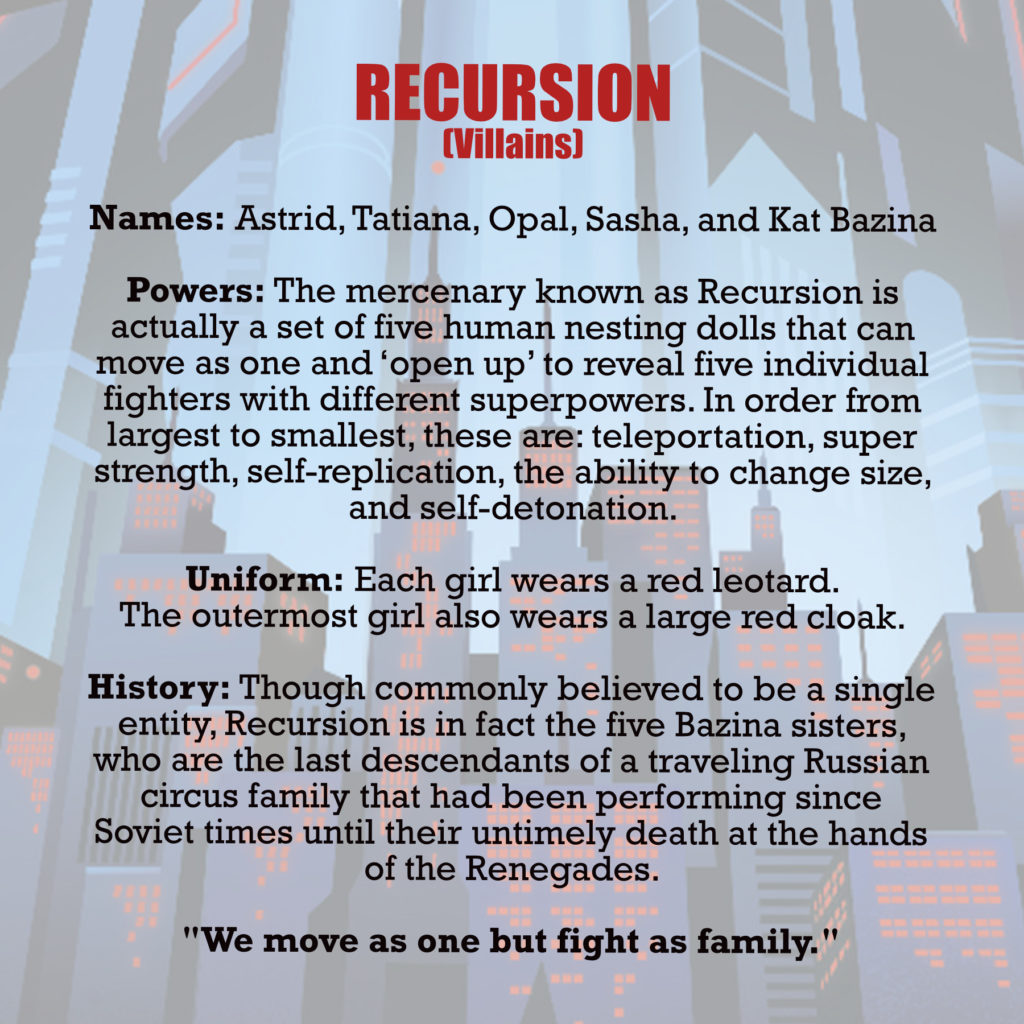 "RECURSION" created by Aimee Lim
And our grand prize winner…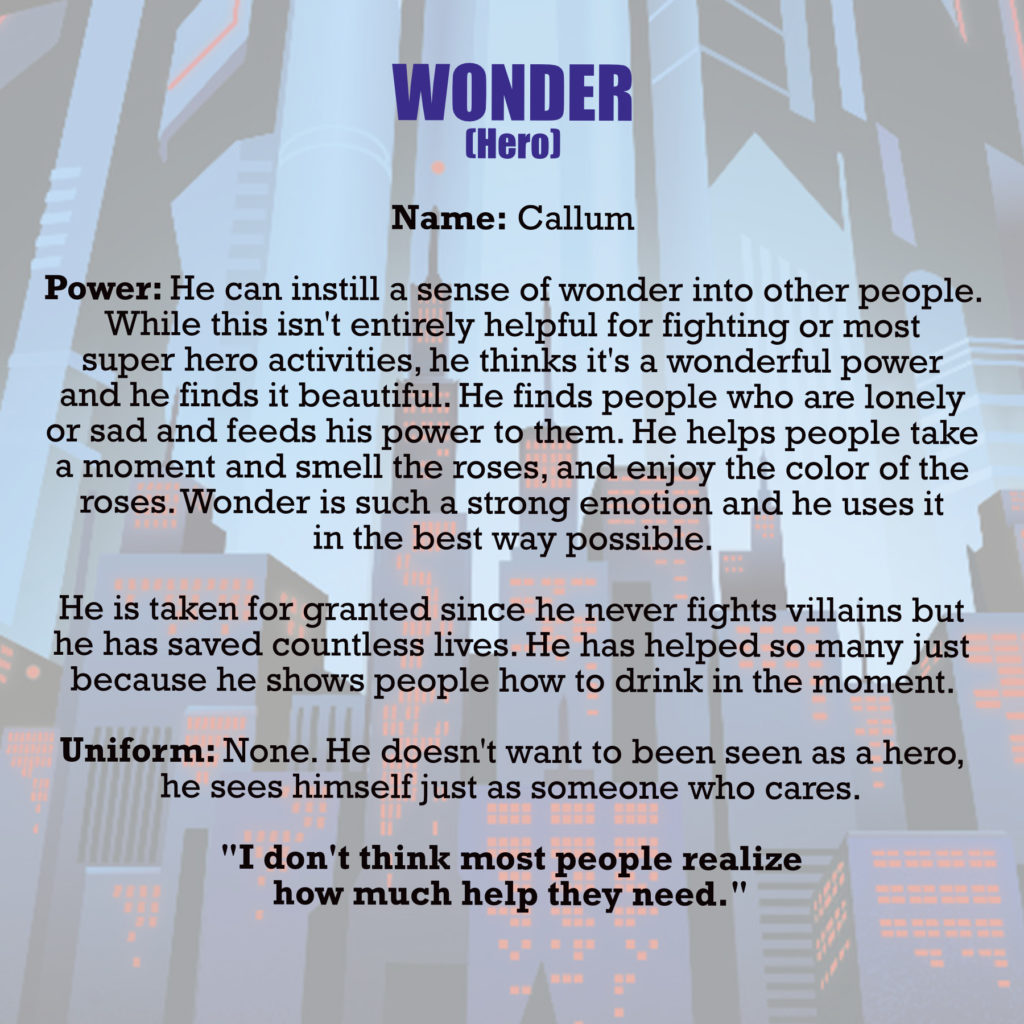 "WONDER" created by Laurel Wreath
Visit Laurel's blog at http://www.laurelwreath02.wordpress.com.
Congrats to our winners, and thank you so much to everyone who entered. I hope you had as much fun creating your mind-blowing characters as I had reading about them!
Posted on:
9th Oct 2017 /
Categorized:
Giveaways
It's time to give away some RENEGADES goodies, and my publisher has graciously provided me with not one but FIVE of these amazing ARC boxes, complete with Anarchist and Renegade button packs! (Omygosh I love them so much!!)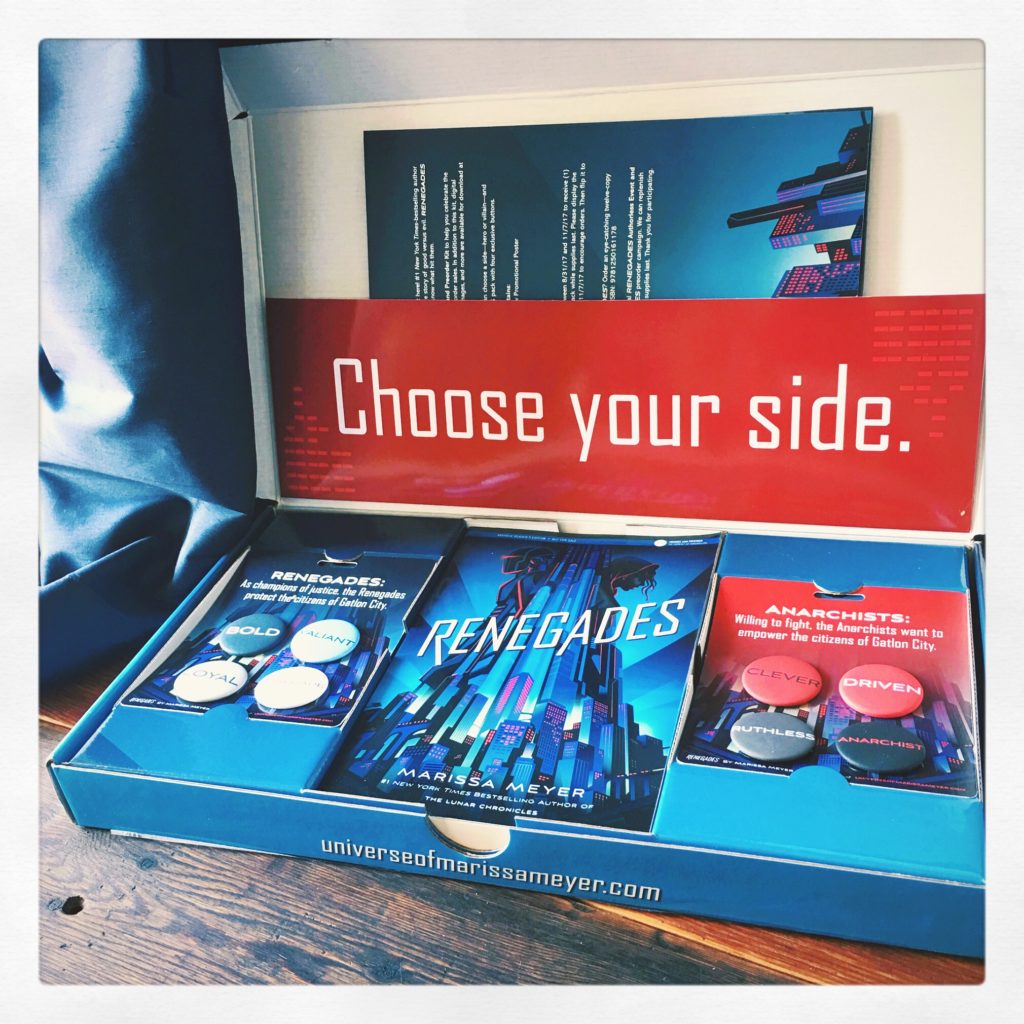 On top of that, I'll be offering one grand prize winner the option of having their character creation featured in the sequel to RENEGADES, which will be releasing in Fall 2018!
All that is to say… it's time to host a new contest!
What do you have to do to get one of these boxes? Easy! Just create your own superhero or supervillain by filling in the form below. No drawing or design skills necessary. (You're welcome.)
YOUR MISSION: Create a New Superhero or Supervillain
Your character MUST include an alias and superpower, and you must choose whether they are a hero or a villain (or, if selecting "other," you'll have to explain yourself).
You can also include information such as their real name, interesting costume or weaponry details, and a memorable quote or catchphrase (all optional).
For example…
This character is a VILLAIN.
Real name: Nova Artino
Alias: Nightmare
Superpower: She never sleeps, but she can put other people to sleep through her touch.
Interesting costume or weaponry detail: A dark hood and metal face mask over the lower half of her face protects her identity. She also wears a utility belt for weapons and tools, most of which she invented herself.
Memorable quote or catch phrase: "I won't rest until the Renegades are punished."
Once you've created your character, fill in the form below with all their details and your email address, and click submit! (You will have the option to go back and edit your character until the contest ends. That said, please do not submit more than one character!)
FOR EXTRA CREDIT (and More Chances to Win):
Share Your Character on Twitter or Instagram!
– Create an image that represents your character – it could be a text-only graphic, or a sketch of your character, or a photo of related props… your image is NOT being judged, so what you do here is completely up to you!
– Post it to Twitter and/or Instagram using the hashtags #WinRenegades and #jointherenegades
– On Instagram, please also tag me: @marissameyerauthor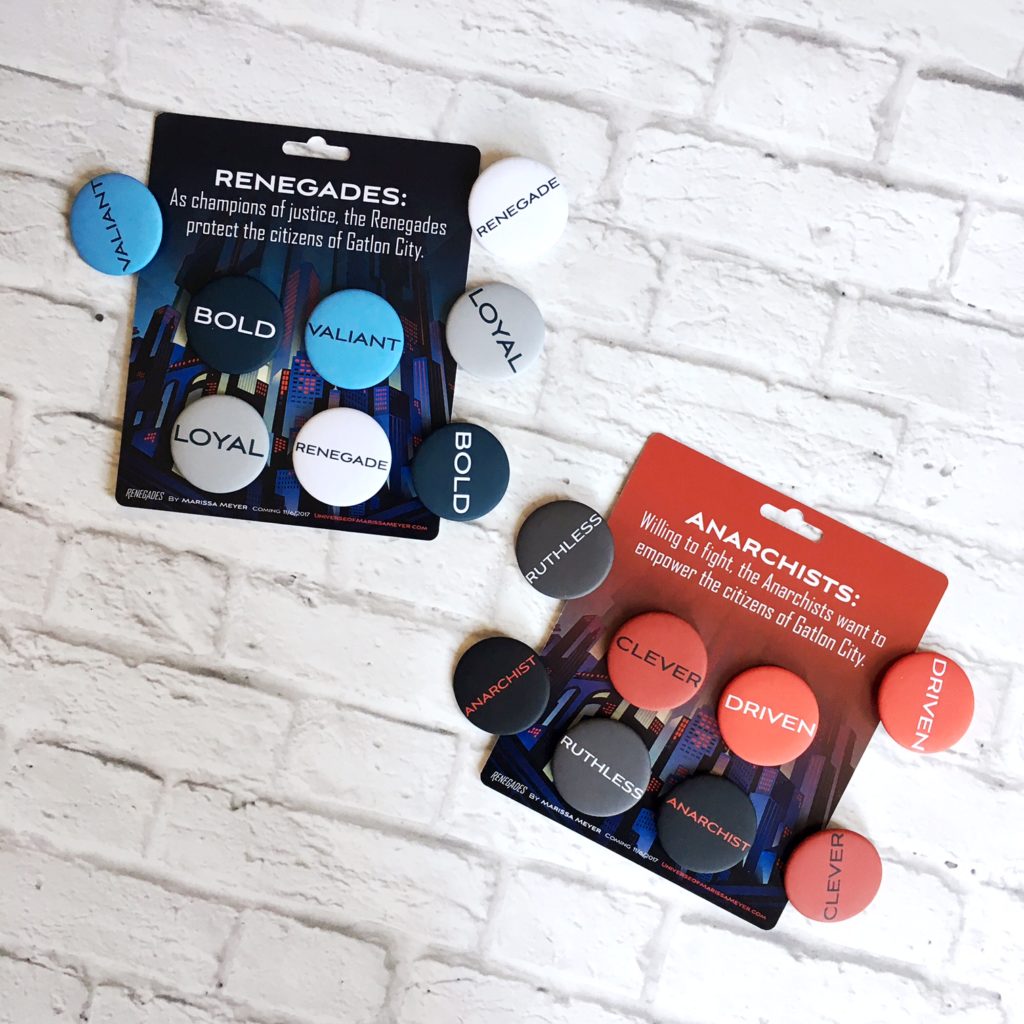 JUDGING CRITERIA
Four first-place winners and one grand prize winner will be selected based on creativity, originality, and overall character cohesiveness (i.e., that their alias, superpower, and other details work together to form one interesting character).
Right now, I plan on judging all the entries myself, but depending on how many entries I receive, I may need to enlist some people from my publisher to help me go through them.
PRIZES
– TWO (2) extra credit winners from social media (one from Twitter, one from Instagram) will be randomly selected to each win a signed ARC of RENEGADES and some fun bonus swag!
– FOUR (4) first-place winners will be chosen based on the criteria above to each win a RENEGADE ARC box with button packs.
– ONE (1) grand-prize winner will receive the RENEGADE ARC box with button packs, PLUS they will have the opportunity to have their character featured in the sequel to RENEGADES, which will be out in the Fall of 2018!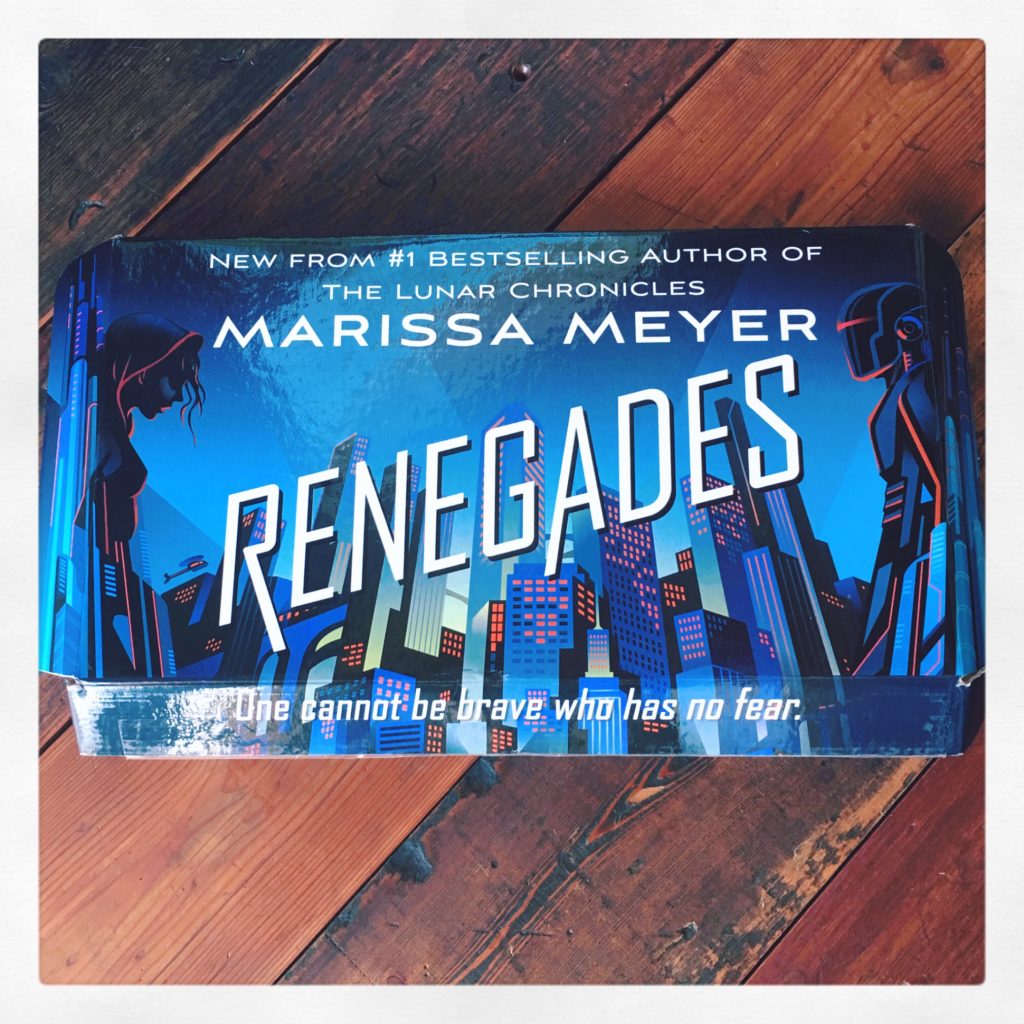 This contest is open internationally. It will close to entries at 11:59pst on Monday, October 16. Winners will be selected and contacted no later than Thursday, October 19.
Good luck!
This contest is now closed! Due to the high volume of entries (998 total!!), it might take me longer than expected to choose a winner, but I do still hope to have all our winners selected and announced by the end of this week (Oct. 20)! Thank you for your patience.