Posted on:
28th Oct 2016 /
Categorized:
Heartless
You know we're close to a book release when the first excerpt from the audiobook becomes available!
I'm delighted that Heartless is narrated by Rebecca Soler, the same talented narrator behind The Lunar Chronicles, and here is our first listen…

The Heartless audiobook will release on November 8, the same day as the hardcover, but you can pre-order it from Audible today: http://www.audible.com/pd/Teens/Heartless-Audiobook/B01K5L5RJW
Posted on:
20th Oct 2016 /
Categorized:
fanart
If the brand new Cinder Infinity Scarves wasn't enough… I have yet MORE exciting news from Litographs!
Their line of Cinder merchandise has done so well (thank you, Lunartics!) that they've decided to add a line for Scarlet too. (YAY!!) And because my readers are pretty much the most creative geniuses in the world… we're once again hosting a contest in which YOU get to design it!
*girlish squeal*
Seriously. I had so much fun seeing the designs created for Cinder that I am dying to see what you guys come up with for Scarlet. I cannot wait!!
All right, here is the official announcement and submission guidelines:
WHAT IS A LITOGRAPH?
A Litograph is art created from the text of a book. Litographs then takes this art and prints it on t-shirts, tote bags, and posters, meaning you can now wear your favorite book! Check out www.Litographs.com to see examples of their work.
Here, of course, is the fabulous Cinder design created by Lunartic Snigdha Chaya Saikia: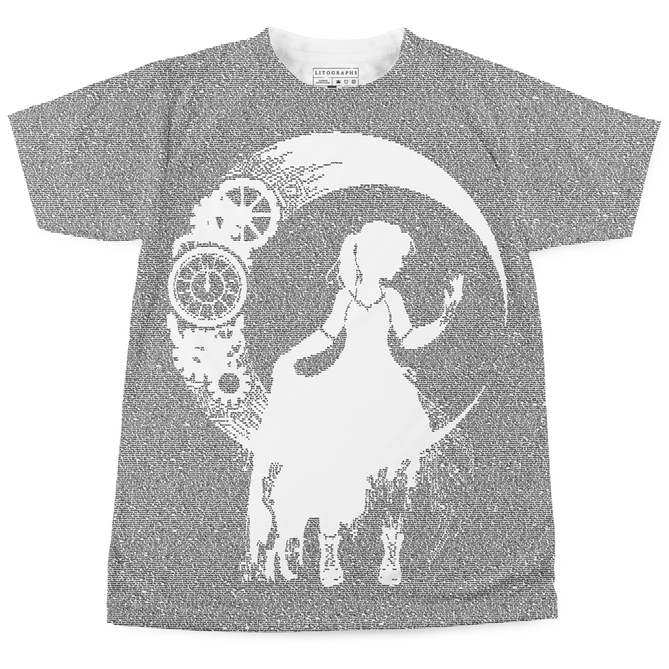 And now we're working on an original line of merchandise inspired by Scarlet!
YOUR MISSION: Create a design to be used as the base for posters, t-shirts, and tote bags for the original Scarlet Litographs line of merchandise.
GUIDELINES
– The winning design will be used as the main art for the release of Scarlet t-shirts, tote bags, and posters.
– Your design should be inspired by Scarlet: Book Two of the Lunar Chronicles and/or speak to a key theme, or plot point, in the book. In other words, we want to be able to recall the book from your design (that doesn't mean spoilers!). Your design must fit some general size and style qualifications as in the Litographs style guide. That said, please do be creative!
– Your design should include graphics only. No text please (as the background will consist entirely of text!).
– Please do not use copyrighted images. All artwork should be your own creation.
– Open internationally.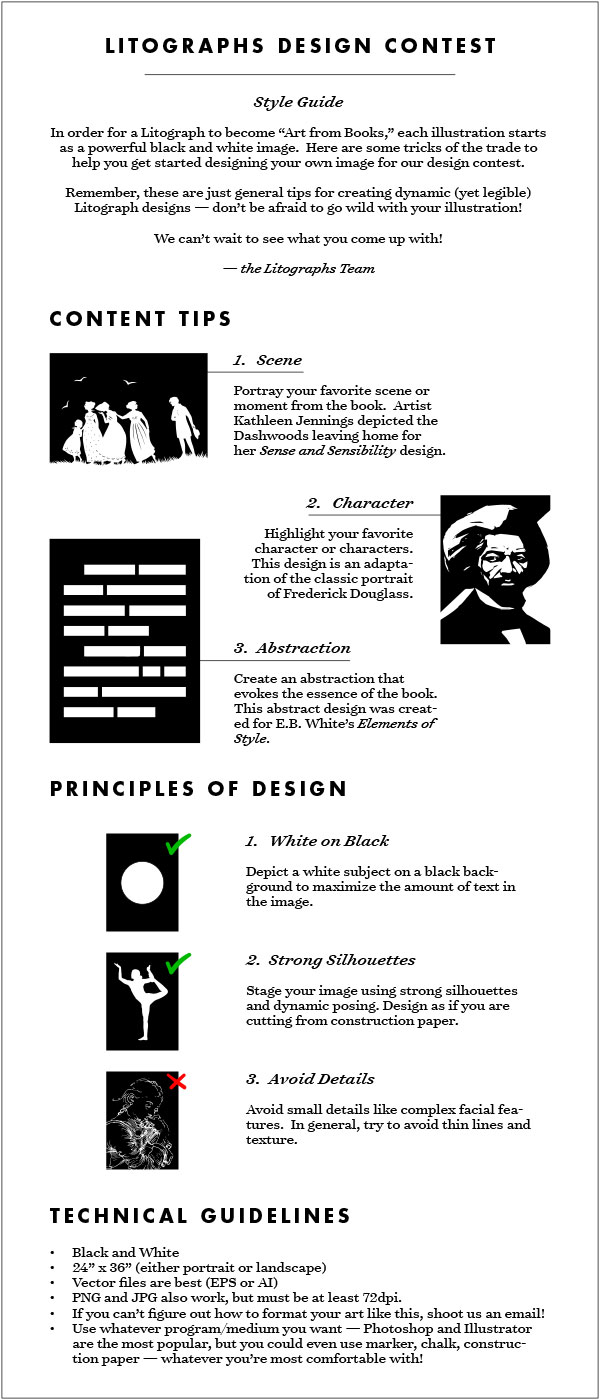 HOW TO SUBMIT
– Please submit ONLY ONE DESIGN. If you submit more than one design, your work will be disqualified.
– Important: By submitting an entry to this contest you grant rights to use this design in forthcoming merchandise, and in display and promotional materials. Please read the terms of service within the typeform for more information.
– Once your design is finished, use this typeform link to submit your design and contact information. Your design will later be posted to my Pinterest page for voting.
ENTER HERE: https://litographs.typeform.com/to/flD9re
– All entries must be received no later than midnight PST on Thursday, November 10th, 2016.  
VOTING AND PRIZES
5 FINALISTS will each receive a $50 Litographs gift card. This can be redeemed for posters, t-shirts, tote bags, temporary tattoos, and other great literary products, including those soon-to-be available for Scarlet!
ONE GRAND PRIZE WINNER will receive a $500 cash prize from Litographs and have his or her design featured on Litographs t-shirts, tote bags, and posters to be available at www.Litographs.com, and indie bookstores around the country!!!
Happy designing, and GOOD LUCK!
Posted on:
25th Oct 2016 /
Categorized:
Heartless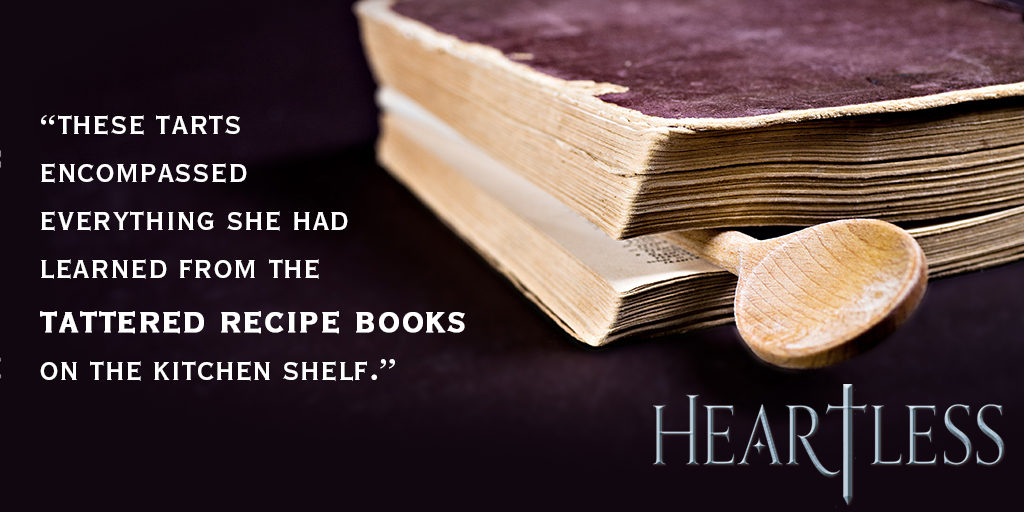 With just two weeks to go before Heartless  arrives bookstores, I thought I would share a curious little behind-the-scenes look into the creation of a novel.
Namely – the entirely bizarre things that we authors sometimes have to research.
The question comes up all the time when I'm talking about The Lunar Chronicles – "How much did you have to research?"
And the answer is always a predictable – "I have to research everything!"
I think it's expected in a science-fiction book. There's space travel, cybernetics, artificial intelligence, disease, genetic tampering, and moon colonization, just to name a few of the things I had to learn about in order to make that world and story seem as real as possible.
But it's less obvious with a fantasy novel, especially one set in a world as quirky and nonsensical as Wonderland. After all, if there was ever a setting in which absolutely anything is possible, this is it. So it might be easy to assume that a fantasy novel like this requires very little research or forethought. Which simply isn't the case. No matter what world you're writing in, it's always going to be important to include details that are accurate or interesting, to help build the authenticity of the book and truly let the reader feel that they've been swept up in a brand new world.
So, from the day I started planning this book, I kept a list of every single thing I had to research during the writing of it – partly for my own curiosity, and partly so I could eventually share it with you.
Some things were huge and took a long time to research – such as daily life in 19th-century England. Others were specific and required only a quick glance at Wikipedia, such as the size and weight of the largest pumpkin ever recorded.
And as with any book, much of my research never actually made it into the writing itself (to the point where there are a number of things on this list that I honestly don't remember looking up and I'm not entirely sure why I was researching them in the first place). But one hopes that every little bit of gathered knowledge will add a tiny bit of depth that will ultimately make for a richer, more magical reading experience.
My Complete and Random List of Heartless Research Topics
Alice in Wonderland & Alice Through the Looking Glass (writing of; word play; Lewis Carroll, etc.)
Poker terms
History of playing cards
One-eyed Jacks and suicide kings
History of lemons
Mock turtle soup
Real turtle soup (recipes, preparation)
Tenniel drawings
Victorian era fashion
Victorian era baking and baked goods
Daily life, customs, traditions – 19th Century England
Unique cobbler recipes
Shoe cobblers
Largest recorded pumpkin
Pumpkin varietals – best for baking
Pumpkin recipes
How to make macarons
The legend of Sleepy Hollow – publication date and other details
Victorian hat styles
Court jesters
Flutes
Victorian courtship etiquette and rituals
What do flamingos eat
Turtle anatomy
History of chess
Victorian era undergarments
Knave/Jack of Hearts – head wear
Men's hats of the Renaissance
The history of cheesecake
Traditional Scottish desserts
Vanilla bean cultivation/production
How to make rose water
Poe's "The Raven"
Victorian toys
History of bicycles
Knock-knock jokes
Card tricks / Magic tricks
Who is Pallas (Raven poem)
History of clowns
Harlequinade theatre
Victorian currency and the cost of clothing
Ostriches
Do turtles sweat?
Calling cards and etiquette
How does it feel to handle a hedgehog
Victorian feasts
What animals eat toads?
Lady's favours and jousting tournaments
Victorian phrases and slang
shoe polish / blacking
milk glass
rules of croquet; lingo
Can caterpillars taste/how?
Rook v. Crow v. Raven
Animal collective nouns
Tools used for hatting
Chess strategy
Chess rules – pawn promotion / queening
Pieces in a traditional tea set
The history of lemons and adding lemon to tea
"Merry-go-round" usage/etymology
Tradition of placing coins on the eyes of the dead
Various lawn games
The history of the frisbee
How to sharpen an ax
And there you have it. Evidence that, no matter how fantastical the world, a little bit of research can never be entirely avoided.
Luckily, for many of us, getting to read about totally weird stuff is half the fun of this job!
Writers: What are some of the most peculiar things you have ever had to research?
Posted on:
11th Oct 2016 /
Categorized:
Giveaways
The Countdown to Heartless is getting intense! We have just four more weeks before it arrives in a bookstore near you, and there is SO MUCH happening to help us all get in the mood for magic, monsters, and madness.
1. Murderer. Martyr. Monarch. Mad… 
Watch the official Heartless book trailer, just revealed at Bustle.com!
*
2. Win a Tea Party with Marissa Meyer
Fans in the US and Canada can enter this cool sweepstakes to be flown out to the Wires & Nerve launch party next January in Tacoma, WA, and enjoy a tea party with yours truly. Enter at HeartlessBook.com.

*
3. The 50 Day Heartless Countdown
Join in the fun by following the prompts on Twitter or Instagram, with the hashtags #HeartlessCountdown and #sweepstakes, and you could win awesome prizes, including an early copy of the book! See more details on FierceReads.com.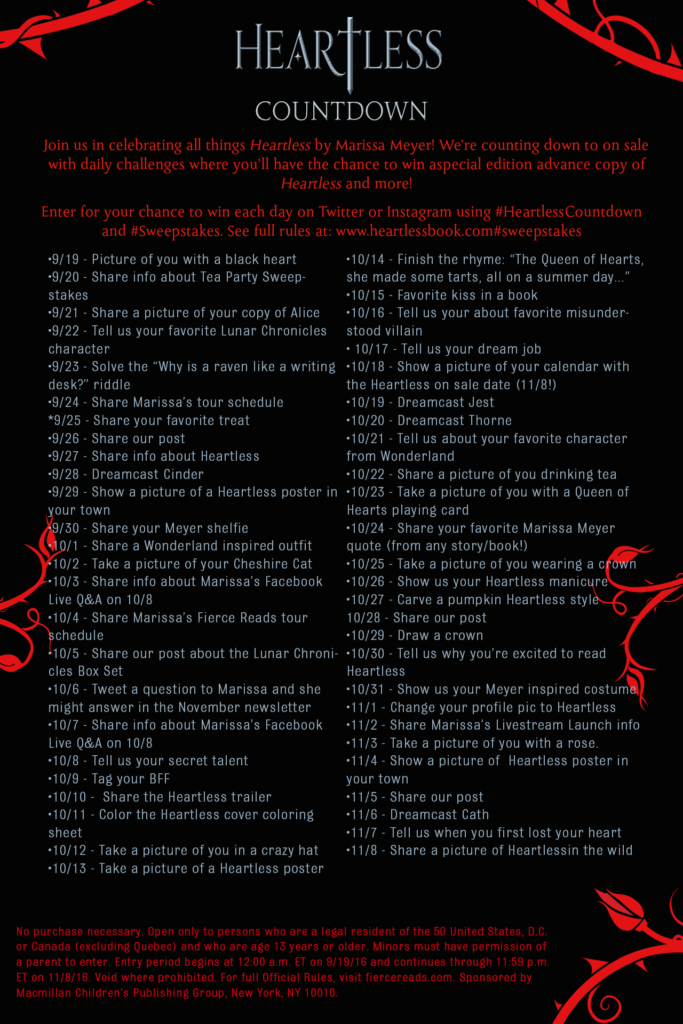 *
4. Don't forget the Heartless pre-order offer!
Submit your receipt to receive a limited-edition Heartless magnetic bookmark, while supplies last.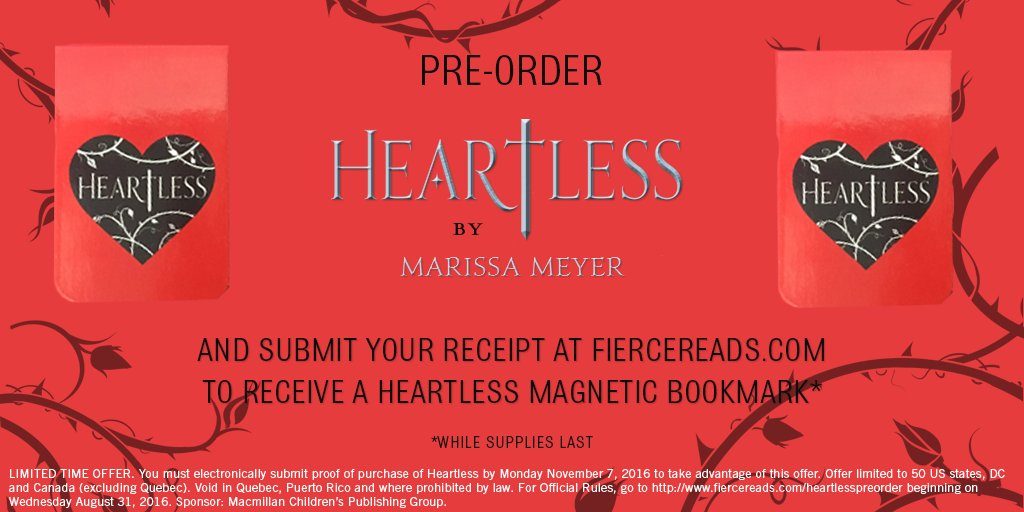 *
5. My Heartless Tour Schedule
Just in case you missed it before, check out the complete list of upcoming events.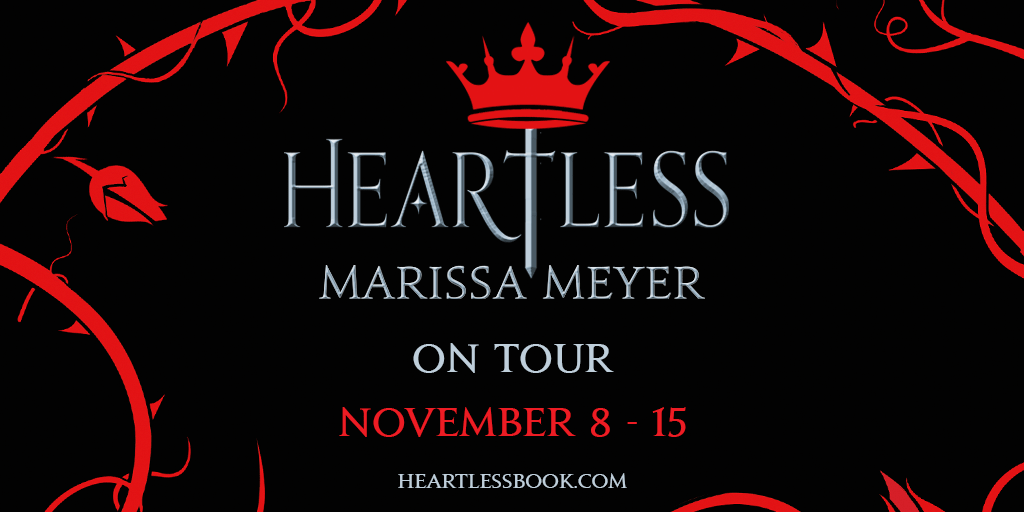 Posted on:
13th Sep 2016 /
Categorized:
Geeking Out
Your votes have been cast and tallied and a winner for the Heartless Mad Hatter Design Contest has been selected!
And the grand prize winner is……… Vanessa!
Vanessa's design is absolutely stunning, and I have personally witnessed more than one jaw drop when people see it. So incredible and amazing and… yes, absolutely mad!!
Once again, big congratulations to our finalists and runners-up: Olivia and Raegyn! I am incredibly smitten with both of your designs and so grateful that you put your whole hearts (get it?) into this contest.
And because there were SO MANY exceptional entries, I wanted to keep up with my regular tradition of also highlighting some:
HONORABLE MENTIONS
I fell in love with each of these, for a variety of reasons, and could have easily seen any of them among our finalists! For your hard work and originality, every one of our honorable mentions will be receiving a random pack of goodies and swag.
I will be in contact with the winners shortly!
Thank you again, a thousand times, to everyone who entered and voted and who is so willing to humor me and these crazy contests. The Mad Hatter would be so proud!
Now: dust off those teapots and start baking some scones, readers… Heartless will be out in just two more months!!!
*tips hat and disappears, Cheshire-style*
Posted on:
21st Sep 2016 /
Categorized:
Heartless
Have you pre-ordered Heartless?
Do you plan to?
Then submit your receipt to receive a limited-edition magnetic Heartless bookmark, while supplies last!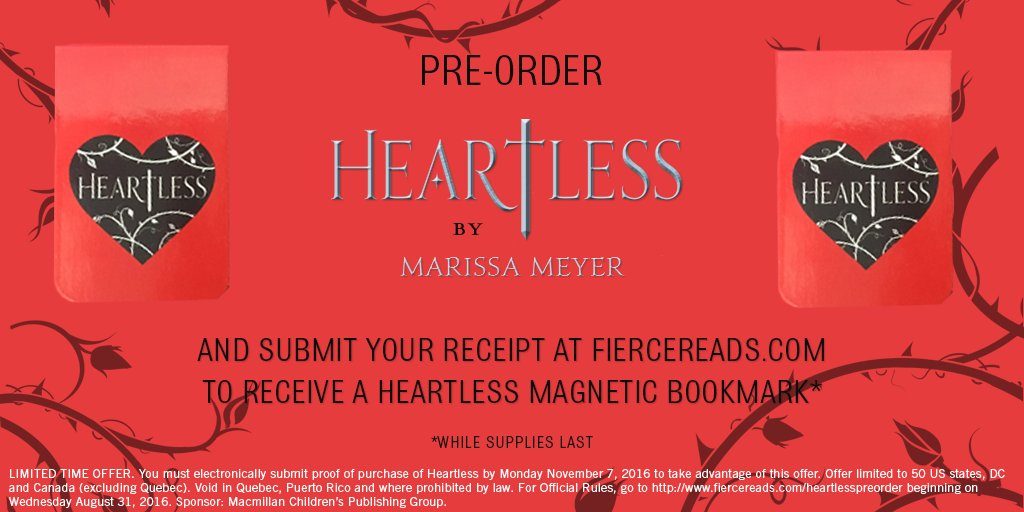 (As this promotion is being run by my US publisher, it's open to US and Canada residents only. See http://fiercereads.com/heartlesspreorder for full rules and restrictions.)
Posted on:
15th Sep 2016 /
Categorized:
Events
I'm going on tour!
Actually, I'm going on TWO tours!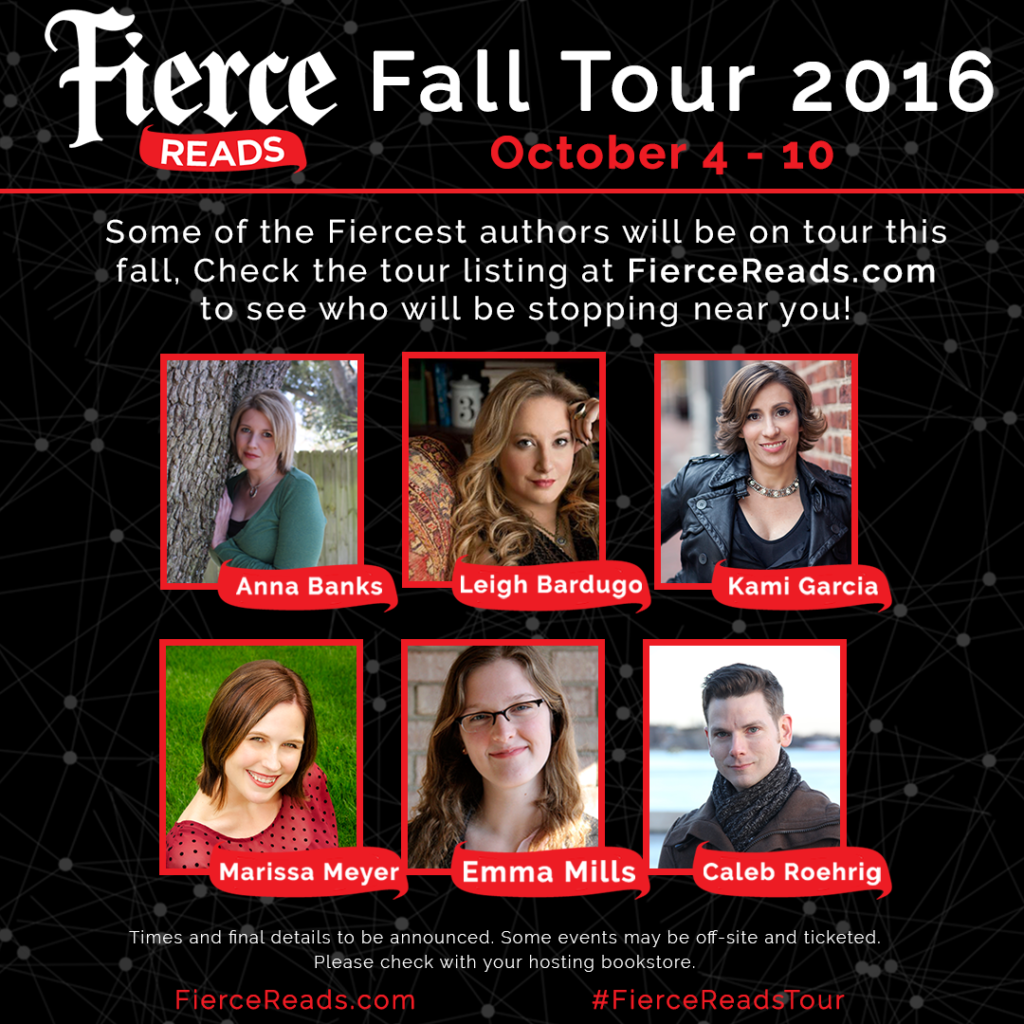 The Fall Fierce Reads Tour
Pittsburgh, PA
October 4, 7:00pm
Pittsburgh Arts and Lectures
New York, NY
October 5, 7:00pm
Leonard Nimoy Thalia Theatre Symphony Space
St. Paul, MN
October 6, 6:00pm
R. H. Stafford Woodbury Public Library
St. Charles, MO
October 7, 7:00pm
St. Charles City-County Library District
(Hosted by Main Street Books)
(Visit http://fiercereads.com/events/ for full event details.)
*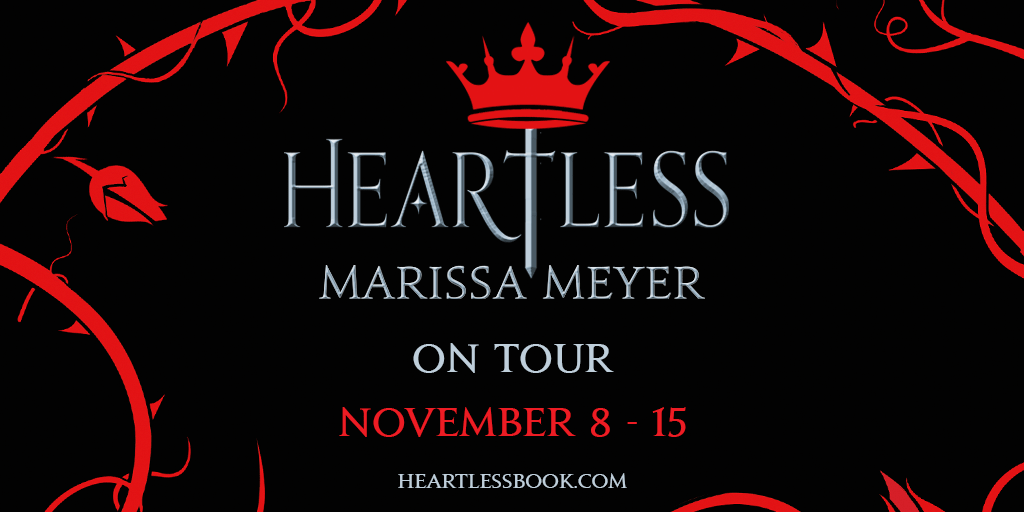 The Heartless Tour
Seattle, WA
November 7, 6:00pm
Seattle Town Hall
The Heartless Launch / Mad Hatter Tea Party
Provo, UT
November 9, 7:00pm
Provo City Library
New York, NY
November 10, 7:00pm
Barnes & Noble Union Square
Saratoga Springs, NY
November 11 (Time TBD)
Northshire Books
Naperville, IL
November 12, 2:00pm
Anderson's Bookshop
Parma, OH
November 13 (Time TBD)
Cuyahoga County Public Library
Decatur, GA
November 14, 7:00pm
Little Shop of Stories
Nashville, TN
November 15 (Time TBD)
Parnassus Books
(See http://www.thelunarchronicles.com/author/ for full event details.)
Posted on:
6th Sep 2016 /
Categorized:
Giveaways
I swear, you guys, I don't know how it is that you manage to blow me away every single time. You'd think I'd be used to it. You'd think I'd just come to expect jaw-droppingly amazing, creative, brilliant work when I hold one of these contests, and yet every time I am made speechless all over again.
I can't even fathom how most of these hats were made, and it is just astounding to me the amount of thought, love, and effort that went into each one.
If you haven't yet gone to see the entries, posted here, DO IT. You won't be sorry.
Limiting myself to just three finalists WAS SO HARD. But, with the help of my Alice-loving mother, I did manage to select my top three finalists for the Mad Hatter Design Contest.
And here they are…
I strongly recommend clicking to enlarge each entry, because the amount of detail in these will blow your mind.
For their brilliance, all three finalists are going to receive a Wires & Nerve sampler book, a Fierce Reads coloring book, and a $50 gift card to a bookseller of their choice… but only ONE will win an ARC of Heartless and the opportunity to have me wear their creation at the Mad Hatter Tea Party in Seattle.
Now it's up to you to vote for the Grand Prize Winner. Cast your ballot below!
(If you don't see the form, click here.)
Voting will end midnight September 12. The winner, along with some honorable mentions, will be announced on September 13. Good luck to all three finalists!