Posted on:
3rd Oct 2017 /
Categorized:
Book Love
Last month I had the honor of speaking to some of the residents at a local juvenile detention center – Remann Hall – thanks to the Remann Hall Book Club. It was an extraordinary experience, not only to meet the teens, but also to meet so many staff and volunteers who are working hard to impact the lives of these young people.
I truly believe in the life-changing quality of books and stories. Books teach us empathy and courage. They broaden our perspectives. They show us that life is so much bigger than our own existence and that the world is full of endless choices and possibilities.
Unfortunately, having access to books and stories and ideas isn't a reality for many kids. Too many grow up unaware of all those possibilities. One of the most eye-opening realizations I had when my husband and I were getting our license to become foster parents was hearing how many children who come from impoverished backgrounds have literally never left their own neighborhood. How many have never experienced the little things that most of us take for granted, such as eating at a restaurant. And how many don't have a single book in their household.
Of course, many young people who end up in detention come from similar backgrounds. Now, I'm by no means an expert on this topic. I don't know the personal stories of any of the teens that I met at Remann Hall. I do believe in personal responsibility and consequences for our actions. But I also believe strongly that everyone should have access to books. And that many people, when offered a choice for a better life, when shown a different path, will take it.
(Case in point: I just read this statistic a couple of days ago in Success magazine: "Whereas 67 percent of prisoners reoffend after release… that figure drops to about 20 percent of those who get an associate's degree, and 5.6 percent of those who finish their bachelor's." If you find that statistic as fascinating as I do, you can  read more about the impact of prison education here.)
The Remann Hall Book Club, and similar book clubs across the country, may not be offering these teens a diploma or a degree, but it is offering them a chance to explore and discuss new ideas. I suspect it offers them much more than that, too, judging solely on my own personal love for books and what they've given to me over the years.
Perhaps most meaningful for me is that, for some of the residents who join the book club, it is the first time they have ever been given a book to call their own.
Thank you so much to the Remann Hall Book Club for inviting me to talk to the residents and for all that you are doing to make a difference in their lives!
If you would like to support the Remann Hall Book Club…
There are a multitude of ways to support the Remann Hall Book Club, including through monetary donations, book donations*, via Amazon, or through Tacoma's local indie bookstore, King's Books.
For full details, visit http://www.remannhallbookclub.org/support/.
(*When donating books, note that they must be paperback – no hardcovers – and they must not address suicide.)
…or check with your local prison or detention center. 
Book clubs are becoming increasingly popular in prisons and detention centers, as we learn more and more about the positive impact they can have both on the residents and on the community as a whole. You may want to consider finding out if there is a book club or education program close to your own home that could use your support.
Posted on:
27th Sep 2017 /
Categorized:
Book Love
I am SOOOO honored today to be hosting a COVER REVEAL! I don't do many cover reveals here on this blog, but this is a book (and series, and author) who are all near and dear to my heart.
It is with utmost pleasure that I reveal the cover for…
LINTANG AND THE FORBIDDEN ISLAND
A new middle grade fantasy adventure from Tamara Moss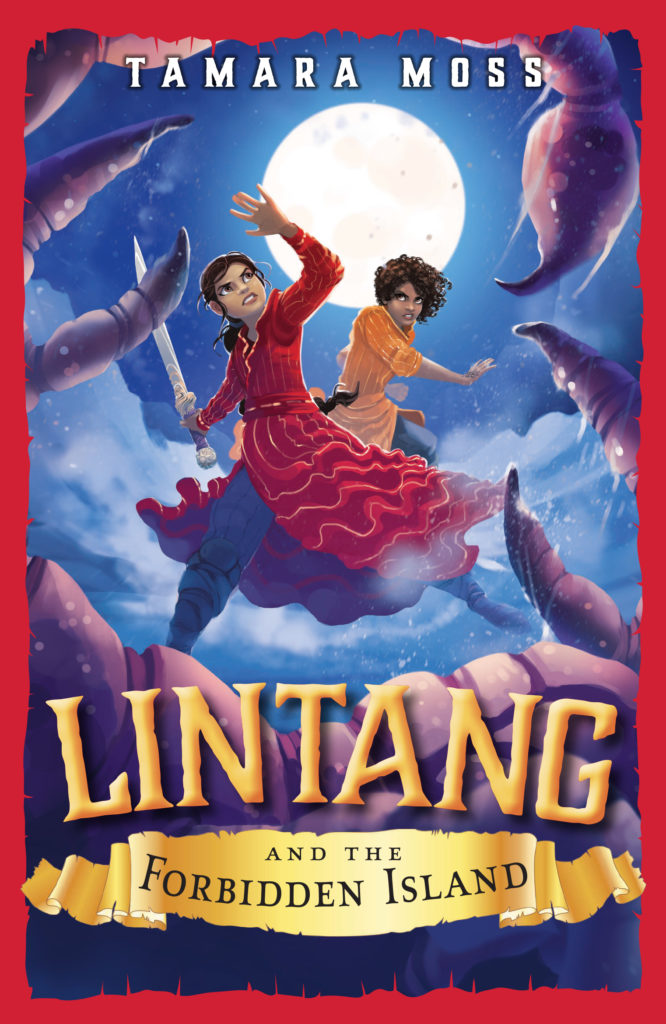 The time has come to visit the forbidden island of Allay.
But first Lintang needs to find her captain, and it seems the only way to get to the Winda is to join – then escape – the Vierzan navy. Only then will Captain Shafira set sail for Allay, where the crew of the Winda must uncover what really happened to the country's missing ruler.
When disaster strikes, and Lintang is separated from her captain again, she and her friends must sneak through the heart of Allay, battle terrifying new mythies and overcome Captain Shafira's enemies to return to where they belong.
Lintang was left behind once. She won't let it happen again.
PRE-ORDER NOW: Booktopia (Australia) | Book Depository (worldwide delivery)
---
Tamara has been one of my close friends and critique partners since we were both writing Sailor Moon fanfiction as teenagers (oh the memories!!) and LINTANG AND THE FORBIDDEN ISLAND is quite possibly my favorite of all of the works of hers that I've had the privilege of reading over the years! It is witty, fun, adventurous, and has some of the most breathtaking worldbuilding of any books I've read. I LOVED this second installment of the series and absolutely adore how this cover captures its excitement and vibrancy!
As an added treat, Tamara was gracious enough to answer a few questions for me!
BONUS INTERVIEW WITH TAMARA MOSS
1. If ever there was a series that celebrates confident, talented women in a variety of roles, it's this one! Can you talk about why it was important to you to include such a female-centric cast?
Do you remember Captain Planet? That was on TV when I was in primary school, and my friends and I used to pretend to be the characters. I was always cast as Gi, because she's Chinese and I have brown skin (I'm part Sri Lankan), and that was "close enough." I was so mad! I grew up with not only a lack of female role models, but a complete lack of girls who looked like me in books and movies, and trust me, I felt ugly my whole childhood. I made sure I wrote a variety of women in Lintang, because I want girls like me to feel good about themselves.
2. Perhaps my favorite thing about both LINTANG books are the mythies! Some are familiar, such as dragons and mermaids, while others, like the malam rasha and the shadowdeath, are sooo creepy and fascinating! Where did you draw inspiration from to create such a variety of creatures?
Some mythies, like the malam rasha and the sea guardian, are actually influenced by mythical creatures around the world. I researched mythology in SE Asia for the first book, parts of Africa for the second book, and Japan for the third book, and drew my inspiration from them while adding my own twists. Others, like the lidao, I completely made up, creating their myths to suit the story.
3. I know that Book Three is in the works! *Checks inbox again to see if you've sent me the manuscript yet. Sees it empty and sighs.* What can you tell us about the continuation of Lintang's adventures?
I'm 35,000 words into Book 3, and spring holidays have just started! Hopefully I can finish this draft in two weeks. Over the next two books, Lintang is trying to find her place on the Winda while travelling to different countries and meeting new friends – and mythies (see: the new character and predator mythie on the cover of Lintang and the Forbidden Island!). She's learning different skills and improving her fighting so that one day she can become a fierce warrior like the legends in her stories. I can't wait to see how she goes for the rest of Book 3!
Thank you so much for the interview, Marissa!
PRE-ORDER LINTANG AND THE FORBIDDEN ISLAND:
Booktopia (Australia) | Book Depository (worldwide delivery)
---
And don't miss the first book of the series, LINTANG AND THE PIRATE QUEEN, available now! (A U.S. publication is also currently slated for 2018.)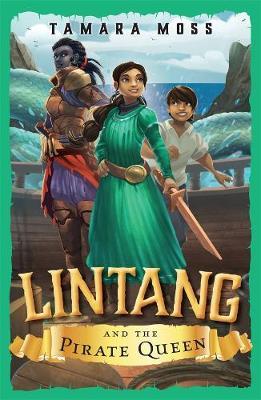 Lintang dreams of having adventures on the high seas.
When a deadly mythie attacks the same day the infamous Captain Shafira visits her island, Lintang gets her chance, defending her village with a bravery that earns her a place on the pirate queen's ship.
But they've barely left the island when Lintang discovers her best friend, Bayani, has stowed away. Telling Captain Shafira means betraying her friend, but keeping Bayani's secret risks everything . . . including their lives.
PURCHASE: Booktopia (Australia) | Book Depository (worldwide delivery)
Add on Gooodreads 
Posted on:
19th Sep 2017 /
Categorized:
Giveaways
Announcing the #SuperheroSelfie contest, where you can win an ARC of RENEGADES!
It's time for me to give away another ARC, and it's time for YOU to channel your inner hero! (Or villain…)
HOW TO ENTER
1. Take a selfie* of yourself striking your best superhero or supervillain pose!
*Hate selfies? Me too (ha!) – so feel free to get creative. I will accept photos of pets, dolls, action figures, clay sculptures, and pretty much anything you want, so long as it / they are in total superhero mode!
2. Post your photo to Instragram and/or Twitter. Include the hashtags #SuperheroSelfie and #WinRenegades.
3. Fill out this Rafflecopter:
DETAILS
– Open internationally!
– Ends at midnight PST, September 26, 2017
– One winner will be randomly selected from Twitter; one winner will be randomly selected from Instagram. (Does that mean your odds of winning increase if you post to both? Yes it does!)
PRIZES
Each winner will receive a signed ARC of RENEGADES!
That's it! Now go be heroic, or villainous… and good luck!
(Pssst, if you missed the news before, I am now on Instagram! Follow me here.)
Posted on:
11th Sep 2017 /
Categorized:
Marketing & Promotion

We're less than TWO months away from the release of RENEGADES (!!!!!!!!!) and all sorts of fun things are a'happening. Including this fun pre-order promotion, just launched by Fierce Reads!
When you pre-order RENEGADES and submit your receipt, you'll receive a set of either Renegade (hero) or Anarchist (villain) buttons – and you get to choose your side!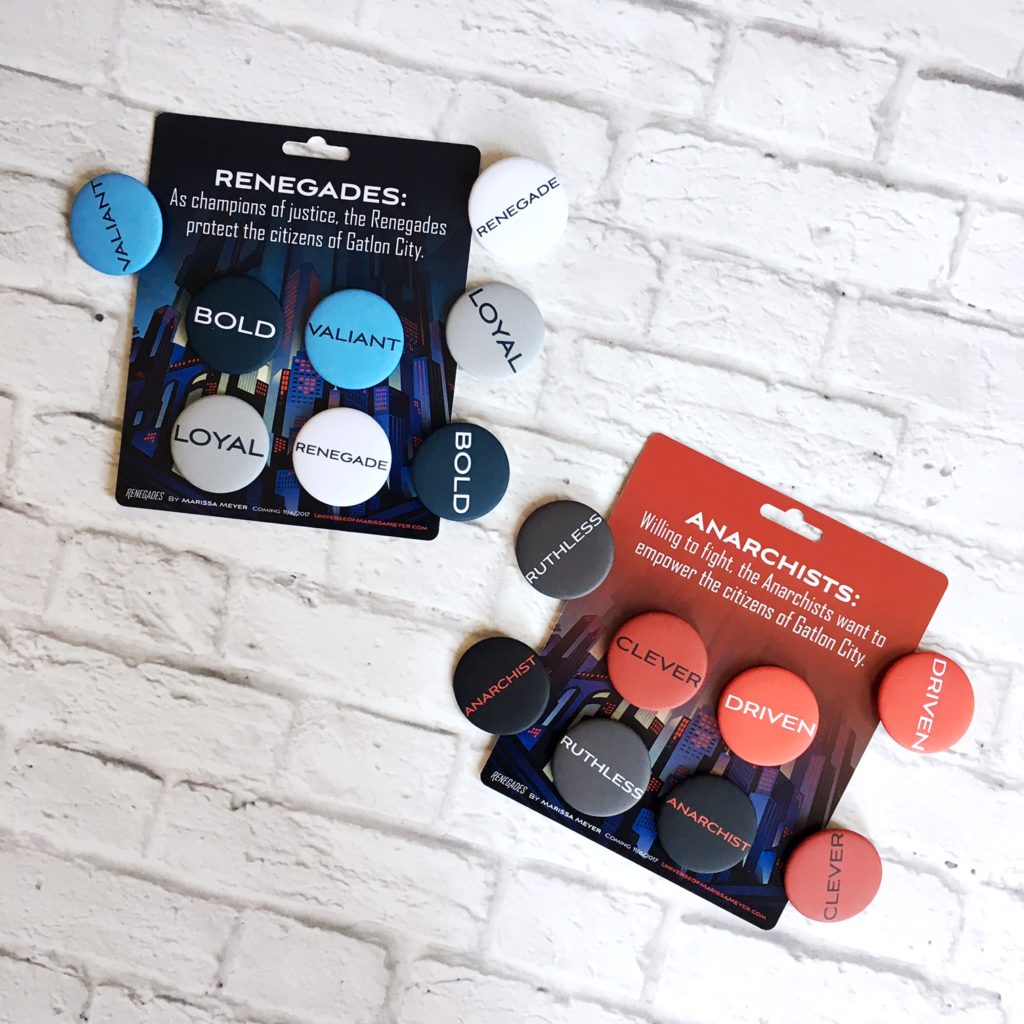 See the full details HERE.
(P.S. I've been getting asked if you can pre-order two books and receive both sets of buttons. Technically they'll accept only one entry per person. BUT, if, say, your mom or a friend wanted to pre-order an additional book, then you'd both get to choose a set. *wink wink*)
(As this promotion is being hosted by my U.S. publisher, it is open to U.S. and Canada residents only.) 
Posted on:
5th Sep 2017 /
Categorized:
Renegades
The book trailer for RENEGADES was posted at Hypable last week, and to celebrate the occasion, they're giving away one Advanced Reader's Copy to a lucky winner!
Now that you've seen it, hop on over to Hypable's reveal page to enter their giveaway. Ends Thursday, 9/7!
Posted on:
28th Aug 2017 /
Categorized:
fanart
Winners have been chosen from last week's social media #WinRenegades giveaway! You can see the randomly selected winners posted on the Rafflecopter of this post, but I wanted to pull special attention to the #Bookstagram winners, because they are all SO PRETTY!

My plan had been to select only one Marissa's Choice winner, but I love both of these SO, SO MUCH, I had to award them both.

Look closely – the delicate lacey border is made out of BOOKS! I am amazed at how cleverly Dani set up this whole composition. When I first saw it, it felt like looking through a kaleidascope. Plus the harlequin backdrop and the roses… the end result is just SO pretty!

From what I can tell, this might be Ella's first go at a Bookstagram, and she completely knocked it out of the park! I absolutely love the simplicity of the design, and how much impact the photo has with the Queen and Joker cards together in that dark, moody lighting. Also – the banner is real needlepoint! I had to do a double-take the first time I saw it. Such a unique idea!
This Bookstagram was actually the randomly selected winner, but I love it so much that I wanted to share it, too – look at all those fabulous textures! And also, the adorable chibi-Cinder!!
There were LOTS of gorgeous photos submitted for this contest. If you want to see more, check them out here!
Posted on:
21st Aug 2017 /
Categorized:
Giveaways
Two things happened this weekend.
1. I joined Instagram. (Because… peer pressure.)
2. I got my box of RENEGADES ARCs! Which means… it is time for me to start giving them away!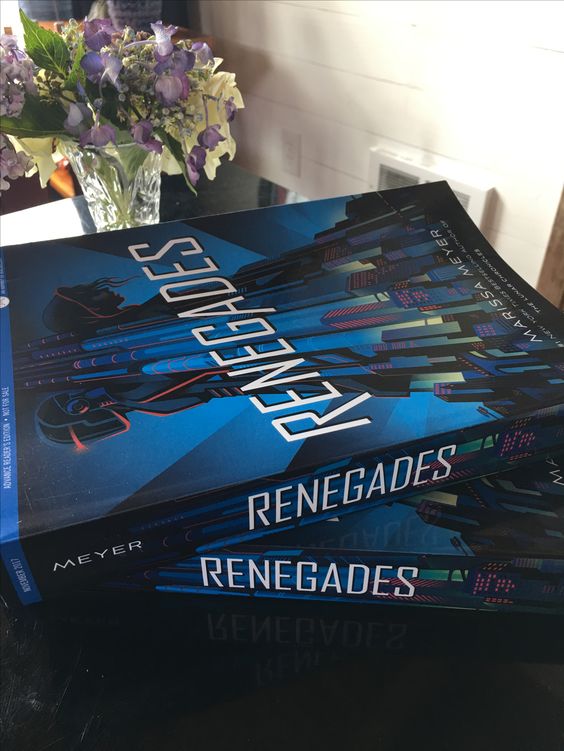 In honor of my being apparently the last person on the planet to join the Instagram bandwagon, I wanted to do a big #WinRenegades giveaway across all my social media pages. And I thought I'd start by saying –
THANK YOU.
Thanks to everyone who has followed, liked, favorited, or commented in support of me and my books over the past six years. I know I've been really quiet on the social networks lately (for which I mostly blame babies), but I so appreciate all of your ongoing encouragement – the fanart, the beautiful pictures, the kind words.
With that said, I am giving away one ARC for each of the social networks that I'm (somewhat) active on… and now, Instagram, too!
Read on for details on how to enter via each channel. Enter one or enter them all – it's completely up to you!
NETWORK: THE MARISSAMEYER.COM BLOG
Though not officially a social network, I've been connecting with readers via my blog since way back in my LiveJournal / fanfiction-writing days, and it remains one of my favorite ways to talk to you guys about my books and writing in general. Seriously, thank you for being here!
To enter, respond to this blog post and tell me:
What is your favorite type of content to see on this blog? (and/or) What sort of posts or information would you like to see more of?
Once you've commented, enter the Rafflecopter form below!
NETWORK: THE MARISSAMEYER.COM NEWSLETTER
All you have to do is sign up, then enter via the Rafflecopter form. That's it!
Subscribe at https://www.marissameyer.com/connect.
NETWORK: TWITTER
1. Tweet an answer to this question: What makes YOU a hero? (Or, if you must, a villain.)
2. Include the hashtag #WinRenegades
3. Enter the Rafflecopter form below!
NETWORK: FACEBOOK
I just posted about receiving the ARCs (hurrah!), and all you have to do is like or comment on it, then enter the Rafflecopter form below. Easy peasy!
NETWORK: PINTEREST
Re-pin at least one image from my RENEGADES inspiration board to any board of your choosing, and include the hashtag #WinRenegades. Then enter the Rafflecopter form below!
NETWORK: INSTAGRAM
I hope all the above challenges were easy enough, because I'm going to expect a *bit* more for my very first Instagram giveaway.
Your mission:
Take your best #bookstagram / still-life photo or video featuring at least one of my books. Be artsy! Be creative! I'm new to this, so I'm really looking forward to seeing what you all do.
Include the hashtags #WinRenegades and #bookstagram.
Once you're done, enter (you guessed it) the Rafflecopter form!
There will be TWO winners via Instagram: the entrant who took my personal favorite photo, plus one randomly selected winner.
Curious? Here is my first go at the bookstagram thing:
PRIZES
Each winner will receive a signed ARC of RENEGADES! Plus whatever pieces of random swag I have lying around.
RULES
Open Internationally! WOOT!
All entries must be submitted by Midnight PST on Sunday, August 27, 2017. Winners will be selected on Monday, August 28.
There will be Seven (7) winners total. Entries via blog comments, newsletter subscribers, Twitter, Pinterest, and Facebook, plus one entry from Instagram, will be selected randomly via Rafflecopter. One additional Instagram entry will be hand-picked by Marissa.
Once winners have been contacted, they will have 72 hours to respond and claim their prize before a follow-up winner is chosen.
Good luck!
Posted on:
14th Aug 2017 /
Categorized:
Giveaways
Advance copies of RENEGADES have arrived!!!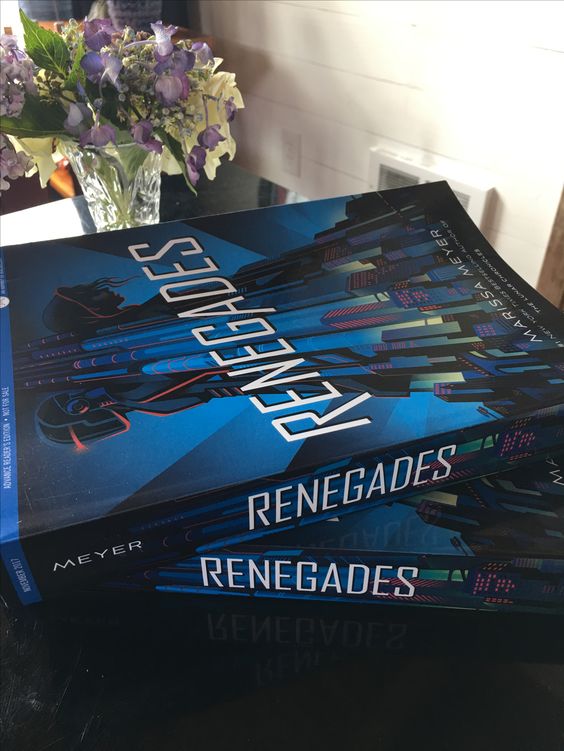 And what's more… Fierce Reads is hosting a sweepstakes and YOU could win one!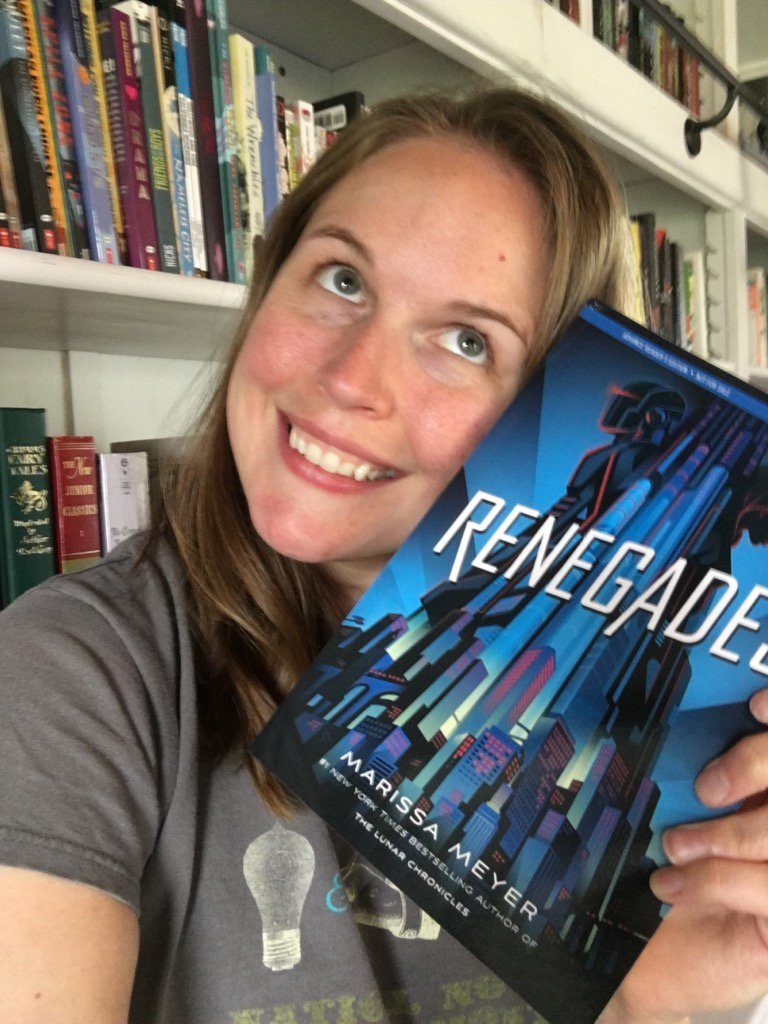 (International readers: As this giveaway is being hosted by my U.S. publisher, it is open to U.S. residents only. But stay tuned! I plan on hosting my own giveaway SOON, and you will have a chance to win one then!)