Posted on:
3rd May 2016 /
Categorized:
Anthologies
What happens when YA Authors and YA Booktubers join forces?
A ridiculously cool new anthology, that's what!
I am so thrilled to announce that I am one of thirteen authors contributing to the forthcoming short story anthology:
BECAUSE YOU LOVE TO HATE ME
…where the theme is all about the evil, the wicked, the downright crazy… or, perhaps, the vastly misunderstood. That's right: it's an entire anthology dedicated to VILLAINS.
Though I can't tell you who my villain is, I can say that you definitely know who they are, and I loved getting to tell a bit about their story.
What else can I tell you?
Why – the full list of amazing contributors, that's what!
AUTHORS
Ameriie
Renée Ahdieh
Soman Chainani
Susan Dennard
Sarah Enni
Marissa Meyer
Cindy Pon
Victoria Schwab
Samantha Shannon
Adam Silvera
Andrew Smith
April Genevieve Tucholke
Nicola Yoon
BOOKTUBERS
Ben of Benjaminoftomes
Catriona of LittleBookOwl
Christina of ChristinaReadsYA blog and TheLushables
Christine of polandbananasBOOKS
Jesse of JessetheReader
Raeleen of padfootandprongs07
Regan of PeruseProject
Samantha of Thoughts on Tomes
Sasha of abookutopia
Sophia of thebookbasement
Steph Sinclair + Kat Kennedy of Cuddlebuggery blog and Cuddlebuggery channel
Whitney of WhittyNovels
Zoe of readbyzoe
For more information, check out this Publisher's Weekly article on the anthology, including an interview with our brilliant editor, Ameriie.
And keep an eye out for the book, publishing July 2017!
Posted on:
28th Apr 2016 /
Categorized:
I am delighted to be a guest author at next Tuesday's Fierce Reads event in Seattle! If you're in the area, I hope you'll come see me, along with fab authors Marie Rutkoski, Harriet Reuter Hapgood, and Cecelia Ahern.
When: Tuesday, May 3, 7:00pm
Where: Third Place Books at Lake Forest Park, Seattle, WA
Who: Marie Rutkoski, Harriet Reuter Hapgood, Cecelia Ahern, and me!
What: Talking books. Signing books. Geeking out over books.

See the full list of events for the Spring Fierce Reads Tour here.
And for everyone who can't make it to any stops on this awesome tour… and, okay, even for those who can – I'm hosting a giveaway where you could win books from all four of us!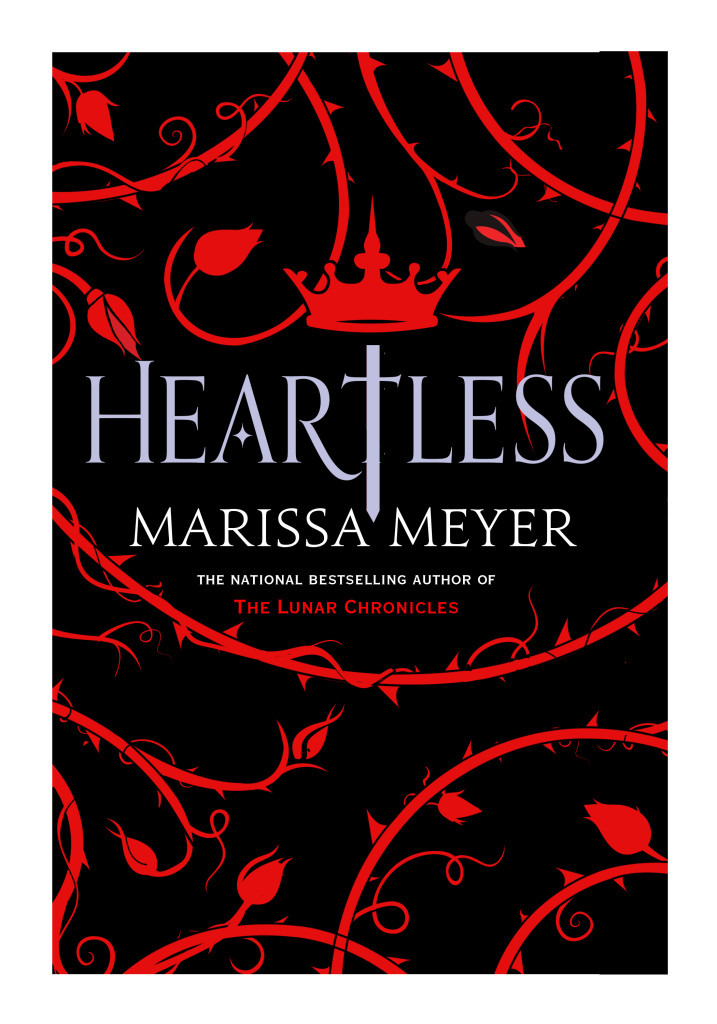 THE PRIZE
One winner will receive:
– An ARC of THE SQUARE ROOT OF SUMMER by Harriet Reuter Hapgood
– An ARC of FLAWED by Cecelia Ahern
– A hardcover copy of THE WINNER'S KISS, the final book in the Winner's Trilogy, by Marie Rutkoski
– And… an ARC of HEARTLESS! My first stand-alone novel, releasing this November
Ends May 15. Open internationally. Enter using the Rafflecopter form below.

(If you are reading this blog post on an outside feed, such as through Goodreads, please kick through to my web site to see the Rafflecopter form.)

Posted on:
31st Mar 2016 /
Categorized:
Gatlon
Welcome to April, and… the start of Camp NaNoWriMo 2016!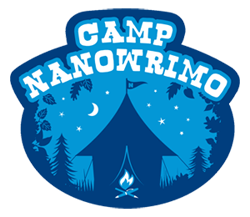 I decided to take on Camp Nano this year for the very first time. Though I'm an old NaNo pro, I'm excited to be doing a new challenge, and at a time of year when I might be able to get some work done while sitting on a blanket in the grass beneath the warm sunshine… which is slightly optimistic given the Pacific Northwest springtime rainy season, but… never stop dreaming!
If you're not familiar with Camp Nano, it's put on by the same folks who bring us National Novel Writing Month every November. But rather than being supplied with a writing goal (a 50,000 word novel in 30 days), you get to choose your own goal, plus you can join private cabins where you and eleven other Nano-ers can root each other on.
My Camp Nano Goal: To complete an outline for the first book of my Gatlon (superheroes) trilogy, knock out a bunch of early research, and compile character and setting sketches for all three books.
If you've been following me for a while, you might be thinking… ummmm, didn't you already write the first book of the Heroes trilogy…?
To which I would say: Hush up, you stalker!
(Just kidding.)
I would actually say: Yes, indeed! I wrote a draft of this book during NaNoWriMo 2014 (holy cow, where does the time go?) – but then I got caught up in finishing Winter, Stars Above, Heartless, and two graphic novel scripts, and when I went back to review the draft I wrote all those months ago… I was supremely dissatisfied.
Which is neither uncommon nor unexpected. In fact, this has happened with the first draft of just about every book I've written, and I'm beginning to realize it just might be the way my brain functions. At least I know I'm not alone, given how many writers talk about scrapping their first drafts and starting from scratch on a regular basis!
I never think of these first drafts as wasted, though. For me, that first non-draft has to happen before you can move on to the first real draft. It's like, your brain is cluttered with all the boring, cliché, and expected ideas and you need to scrape off that layer of drivel before you can get to the goldmine underneath.
And now it's time to roll up my sleeves, grab my shovel, and start digging up the real story.
Huh… that's actually not a bad analogy.
Anyway, so I'm back at square one, but I'm also excited to dive back into this world and start molding it into the awesome trilogy I believe it can be.
Wish me luck this month! Or better yet, wish me plenty of inspired, lightning-bolt ideas…
Are you doing Camp Nano this month? Feel free to post about your April goal or root each other on in the comments. And though I already have a cabin, feel free to use this blog post to seek out Lunartic cabin mates for yourself! 
Posted on:
23rd Mar 2016 /
Categorized:
Book Love
You guys know that our adoption finalized, right? Because I just realized that I posted about it on Facebook but never here on my blog, so for those who were following our foster-to-adopt journey, the twins became Officially Ours last December.
Hooray!!!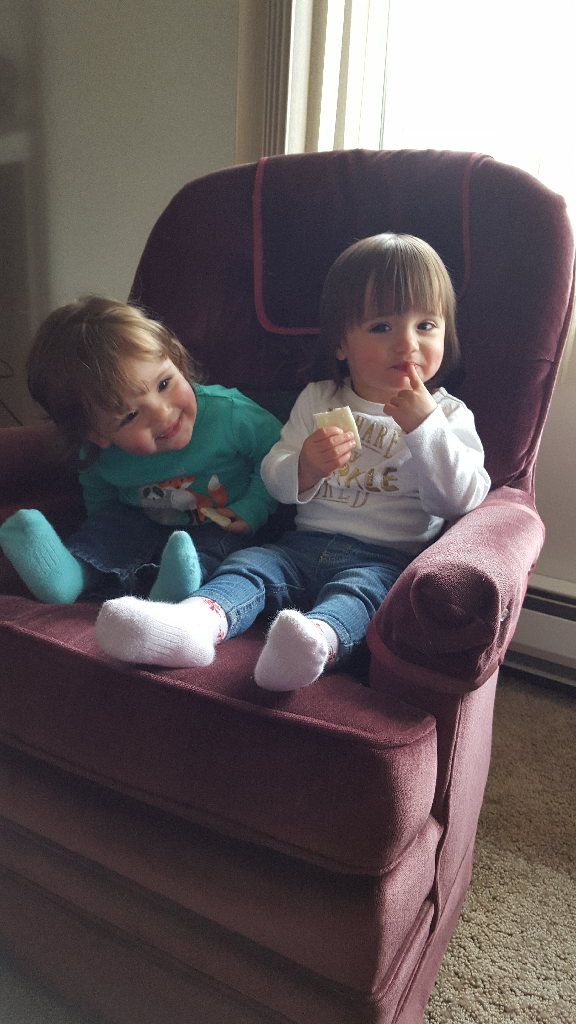 Delaney and Sloane
Before having babies, I knew very little about the board book and picture book market. Sure, I had fond memories from my childhood of Harold and the Purple Crayon or Where the Wild Things Are and lots and lots of Dr. Seuss, but otherwise this last year has been a crash course in baby books, new and old, as I'm sure it is for all brand-new parents.
Luckily, the twins love being read to, and they certainly have their favorite books that they grab from the shelf time and time again. Mostly, they like anything with farm animals. (Mom and Dad mooing like cows… it just never gets old!)
And then there are the books that appeal not just to the girls, but to us as well, and I have developed an enormous appreciation for these treasures! Those that are still humorous and heartwarming, even on the hundredth reading. Those that have surprisingly detailed pictures, where you can still spot something new in the illustrations even if you've seen them dozens of times before.
So today I thought I'd post some of my favorite board books that we've discovered since getting the girls, just in case anyone out there has little ones in need of a new Favorite Story.
Love Monster by Rachel Bright
This one was an instant classic in our house. The story quirky and sweet, there's great voice in the writing, and the illustrations are both adorable and surprisingly complex when you really start to look at them.
Little Blue Truck and Little Blue Truck Leads the Way by Alice Schertle 
These are very clever rhyming books that are fun to read out loud, and the stories are paced just perfectly to hold the girls' attention. Plus they each carry a nice message about kindness and patience, without feeling overly moralistic.
Click Clack Moo: Cows That Type by Doreen Cronin
Not only does this one have a great off-the-wall premise (Cows that type? Impossible!), but it also uses unexpectedly mature vocabulary, like ultimatum and neutral party. You know, in addition to all the moo-ing.
Tumble Bumble by Felicia Bond
There are subtle jokes here that go over the girls' heads, but I find heartily amusing – like a threatening crocodile turning out to be a big softie, or how all the animals are afraid of bears… until one crawls through the window. (Which is notably Sloane's favorite moment of any book we own – she knows that bear is coming, but she still gets excited every time it shows up!)
Okay, parents, teachers, and librarians – your turn! What are some of your favorite books to read to the baby and toddler set?
Posted on:
15th Mar 2016 /
Categorized:
fanart
At the launch party for Stars Above last month, I received a most curious gift: four paper squares with some obscure artwork on them. They also came with a letter explaining that at each of the events on the Stars Above book tour I would receive yet more squares – so that, at the end of the tour, I would have 28 puzzle pieces that would make up one epic image.
Waiting for those squares and trying to piece together what I had after each event was one of the most fun book tour experiences I've ever had. It was like a scavenger hunt! And a birthday party! And getting cool fanart! All rolled into one!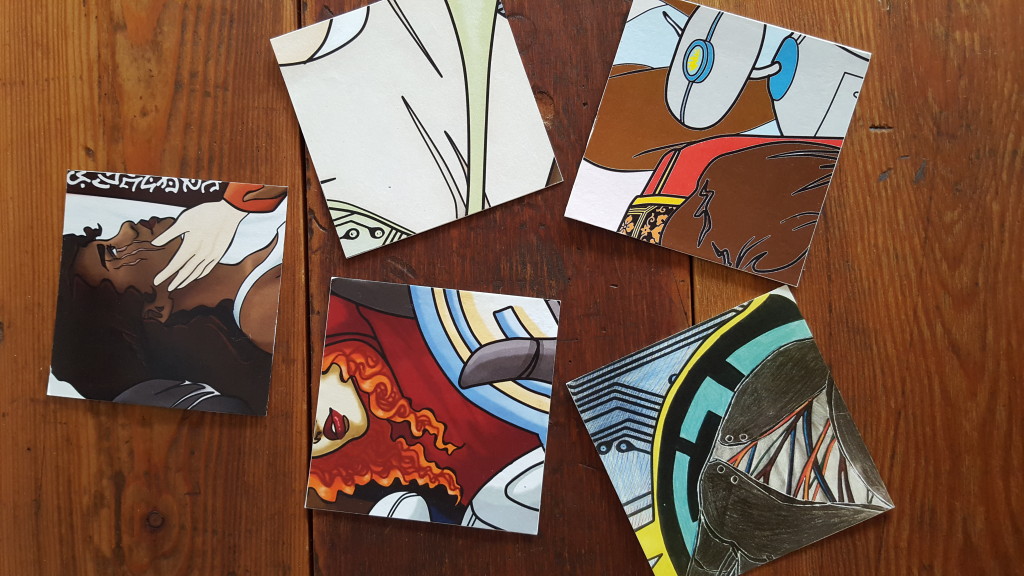 It was such a joy trying to interpret each individual piece as they came (Look, it's Winter! It's Scarlet! I… have no idea what that is. OMG it's Iko!!), and even more fun as the picture began to reveal itself.
And not only were each of the puzzle pieces colored by a different fan or blogger, but each contributor also wrote a personal message on the back of their piece: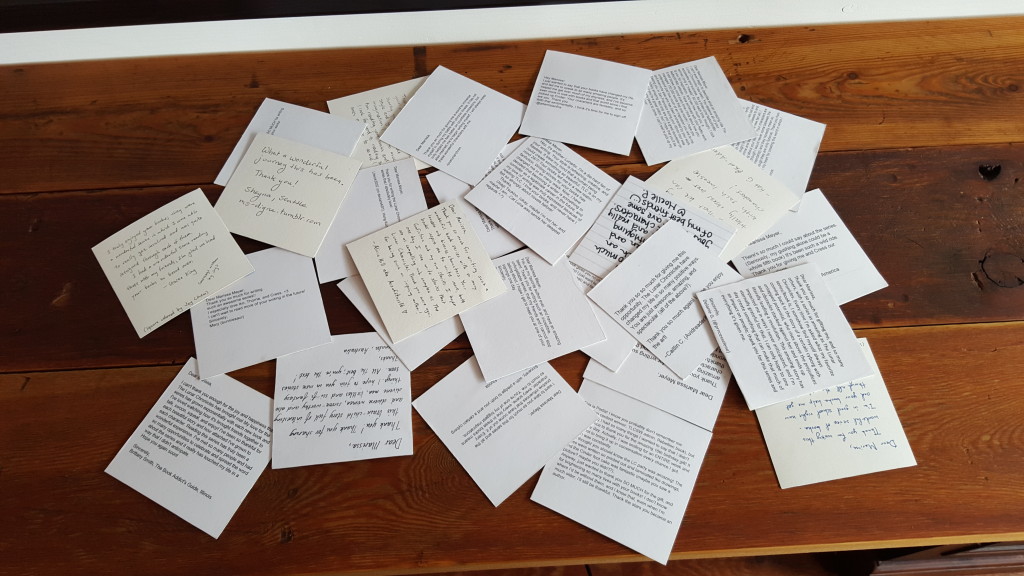 Reading through your thoughts on the characters, world, and story of The Lunar Chronicles meant so much to me. I truly can't express to the collaborators of this project how much I enjoyed receiving the pieces, reading your thoughtful words, and seeing the puzzle come together.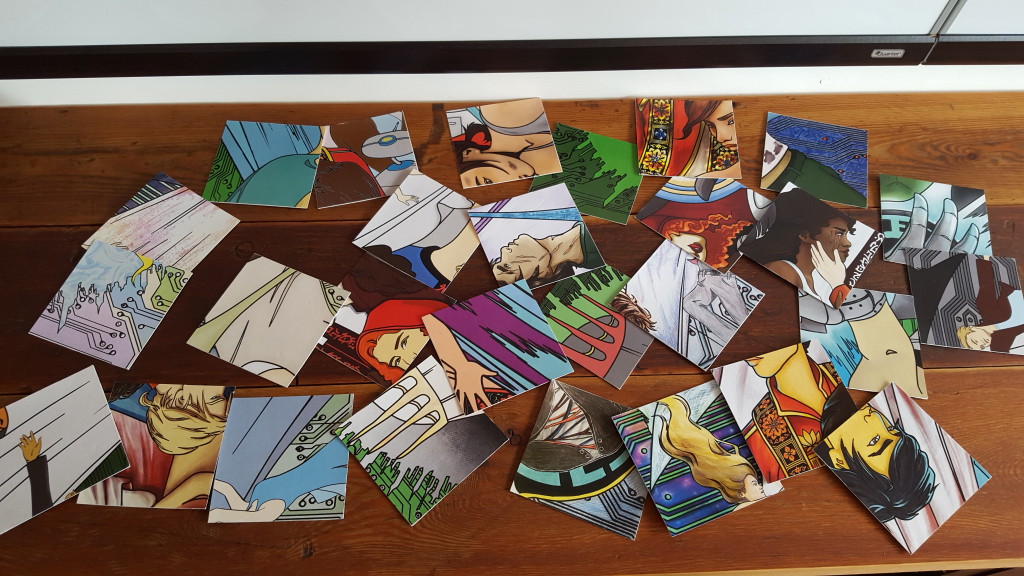 I'm just so touched by the thought and effort that went into this surprise project, and so happy to be able to share the completed puzzle with all my Lunartics today!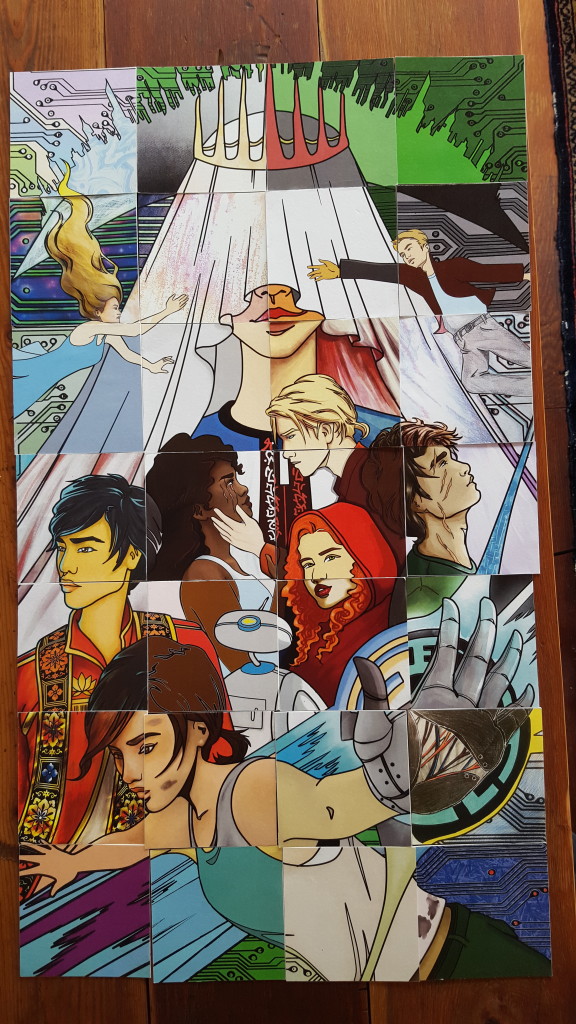 Seriously. How cool is that???
Thank you so much to all the contributors:
@velvetblush
@prncessselene
@thelunar-ckswctwj
@artemisianfire
@ms-digne
@avidreader821
@aceofstars16
@bookaddictsguide
@Litwick3002
@mf-islands
@heilo4298
@famouswriter101
@cactyss
@lovelunarchron
@twilight150
@cassia-azure
@niennaart
@empyrean-rain
@babitty-rabitty
@allfortheloveofabook
@toinfinityandbeyond277
@7-t
@ana-dante
@bunniesaur
@epicromancesdontjusthappen
@silentfansilentdream
And a particularly warm thank you to the coordinator of this project, Kat-Adara, who must have put so much time and thought into making it happen. Your organizational skills are astounding!
*squishes you all*
Posted on:
1st Mar 2016 /
Categorized:
Cinder
Since the launch of Stars Above, I've been doing a lot of reminiscing about the last four years, which have been amazing, surreal, and life-changing in so many ways. And I've been inspired to assemble a sort-of virtual scrapbook on Facebook: each day this month I'll be sharing one of my very favorite moments in the time of The Lunar Chronicles, including some of the most memorable fan interactions, crazy-cool promo stuff, and some moments that literally brought me to tears.

The month-long celebration kicked off today with this image of the Flat Iron Building in New York City, and my publisher's first tribute to CINDER: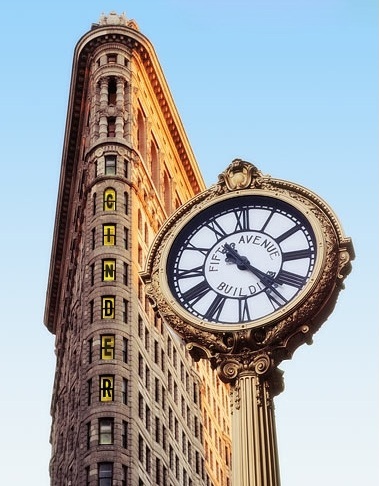 Follow along for more of my favorite TLC moments all month long at https://www.facebook.com/MarissaMeyerAuthor/.
Posted on:
16th Feb 2016 /
Categorized:
fanart
Oh my stars. Have you guys seen these????
Now, I have received a lot of amazing fanart over the years and every piece has made me smile or swoon, and sometimes even made me laugh.
But last week, during the Stars Above tour, I received a booklet containing two short TLC comics that made me smile, and then awww, and then… cry. Truly. That was a first.  These two graphic stories are so incredibly touching (and cleverly done!) that I simply had to share them here.
Thanks to Sorcaron for bringing them to my attention and printing my own keepsake book to cherish, and to both Sorcaron/mf-islands and Ana-Dante for creating such heartfelt mini-tales.
Click through to read the entire comics. And enjoy! 
Posted on:
8th Mar 2016 /
Categorized:
Anthologies
I'm so pleased to announce the release of A TYRANNY OF PETTICOATS: 15 STORIES OF BELLES, BANK ROBBERS & OTHER BADASS GIRLS, edited by Jessica Spotswood – a historical fiction anthology that includes a story from yours truly.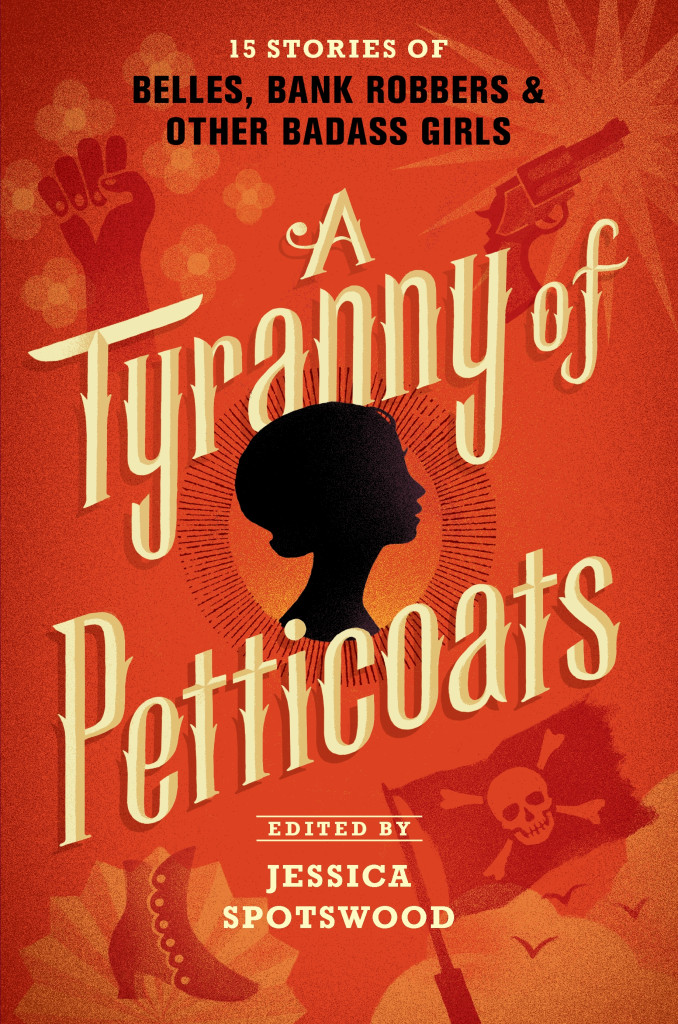 From an impressive sisterhood of YA writers comes an edge-of-your-seat anthology of historical fiction and fantasy featuring a diverse array of daring heroines.
Criss-cross America — on dogsleds and ships, stagecoaches and trains — from pirate ships off the coast of the Carolinas to the peace, love, and protests of 1960s Chicago. Join fifteen of today's most talented writers of young adult literature on a thrill ride through history with American girls charting their own course. They are monsters and mediums, bodyguards and barkeeps, screenwriters and schoolteachers, heiresses and hobos. They're making their own way in often-hostile lands, using every weapon in their arsenals, facing down murderers and marriage proposals. And they all have a story to tell.
With stories by:
J. Anderson Coats
Andrea Cremer
Y. S. Lee
Katherine Longshore
Marie Lu
Kekla Magoon
Marissa Meyer <~ that's me!
Saundra Mitchell
Beth Revis
Caroline Richmond
Lindsay Smith
Jessica Spotswood
Robin Talley
Leslye Walton
Elizabeth Wein
---
My contribution – titled "Gold in the Roots of the Grass" – is a ghost story that takes place during the 1877 Black Hills Gold Rush. I loved researching and writing it, and sincerely hope you'll enjoy it, along with the whole collection.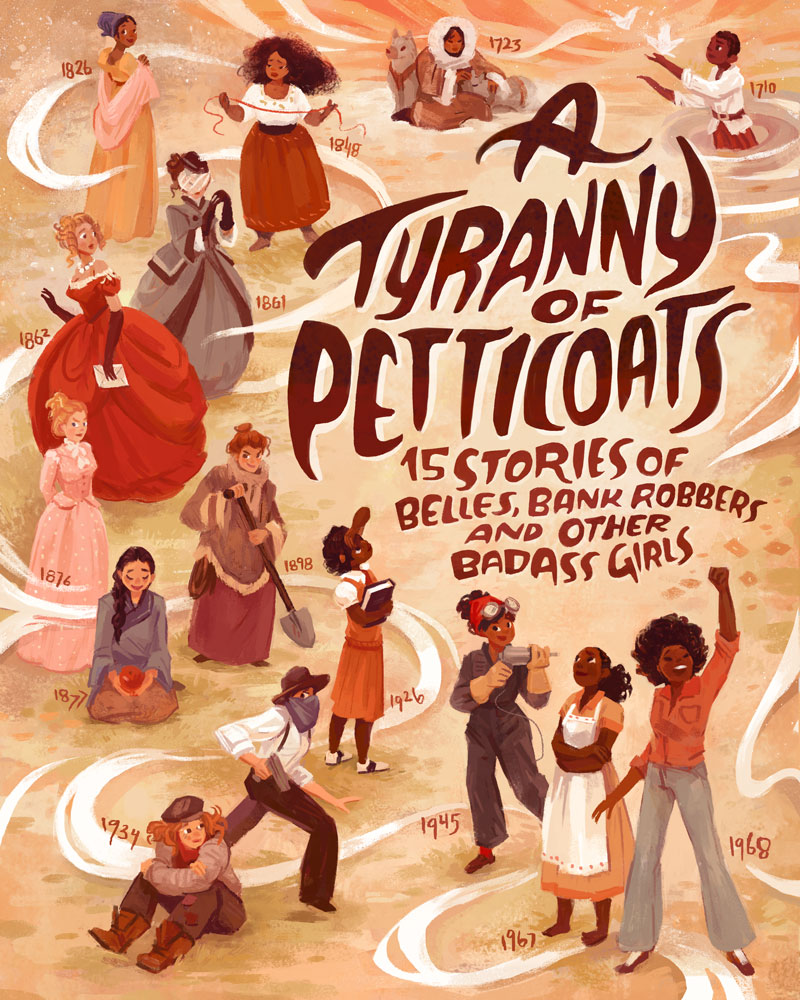 Illustrated Timeline by Simini Blocker
---
And if you live in the Seattle area, don't miss these book events!

Bellevue, WA
Tuesday, March 8, 6:00pm
University Bookstore
A Tyranny of Petticoats book launch party with J. Anderson Coats, Marissa Meyer, and Leslye Walton

Tacoma, WA
Saturday, June 4, 5:00pm
University Bookstore
A Tyranny of Petticoats signing and Q&A with J. Anderson Coats, Marissa Meyer, and Leslye Walton