Posted on:
27th May 2020 /
Categorized:
Cinder

Surprise! I wrote a new Lunar Chronicles short story, inspired by the prompt from @fiercereads asking what our characters would be doing during a time of social distancing. It was really fun for me to hang out with these characters again for a little while, and I hope you'll enjoy it!
"Stay safe, and take care," said Kai. They both smiled at the netscreen for a beat, then Kai reached forward and ended the transmission.
They turned to each other and shared a mutual sigh.
"Another day, another press conference," said Cinder, taking his hand. "You were great, as usual."
Find the rest of the story on theFierce Reads blog.
Posted on:
15th May 2020 /
Categorized:
Fairest
In case you missed the reveals over on Instagram (where I spend much of my social media time these days) behold – more cover redesigns!
First is Fairest – the cover and the amazing stepback: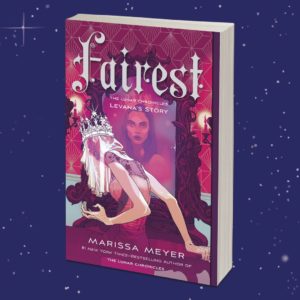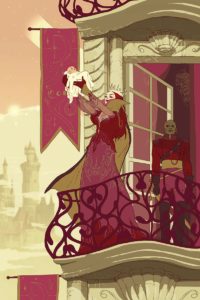 And Stars Above with its stunning stepback: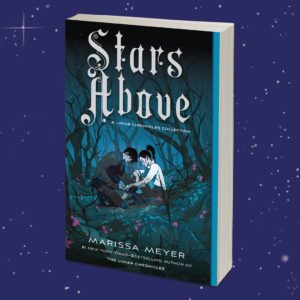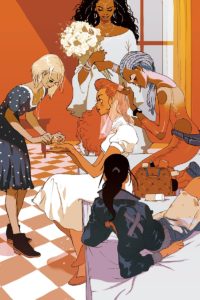 Both of these new editions will be hitting shelves in OCTOBER 2020, and are now available for pre-order! (And yes, there will be a box set for all six books coming too! I'm so excited!!).
Thanks again to @tropical_toxic for lending his fabulous talent to this series!
Posted on:
5th May 2020 /
Categorized:
The Happy Writer Podcast
Hello readers and listeners! Hopefully you've been well and have been enjoying The Happy Writer podcast so far. Now that there are several episodes, it felt like a good time to get your feedback. Click here to fill out a short(ish) survey. It is anonymous but if you include your email, you will be entered to win a signed copy of one of my books (your choice). Open internationally and ends May 18.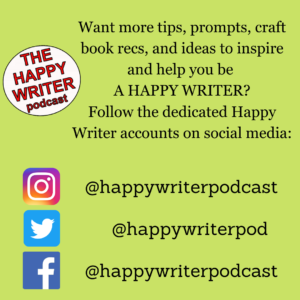 While you're there, make sure to subscribe to the podcast at your favorite service and follow the podcast social media accounts. We're sharing podcast info, quotes, writing prompts, tips, and more–all to help you be a more happy writer.
Posted on:
28th Apr 2020 /
Categorized:
Instant Karma
It's here! The cover reveal for INSTANT KARMA, my upcoming YA contemporary novel! I LOVE the art (it was illustrated by Vera Brosgol! *fangirl squealing!!!*) and am so, so excited to share this book with you.
⠀⠀
The official reveal at Entertainment Weekly includes the first chapter! 🌴 ☀️ 🐬 💕 🎶 .
Add to your Goodreads TBR list and pre-order through the Universe of Marissa Meyer site.
And finally, stay tuned for an Instagram live reading later this week.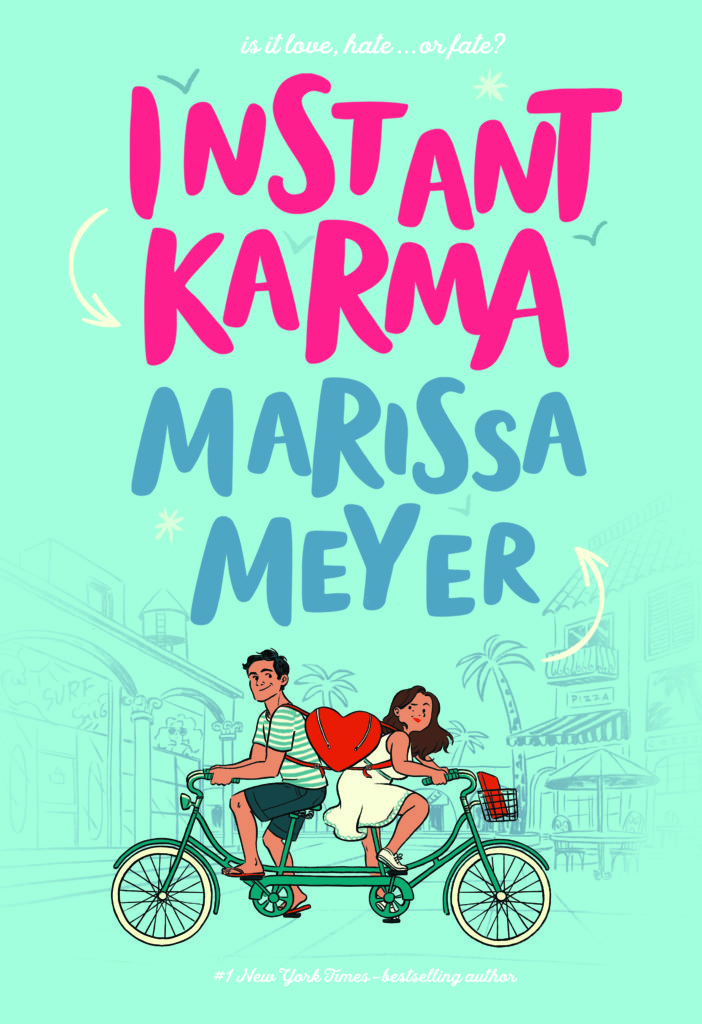 Posted on:
20th Apr 2020 /
Categorized:
Events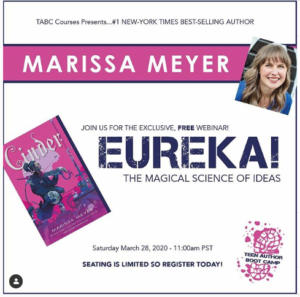 Did you miss my virtual seminar, hosted by @teenauthorbootcamp? You can now watch the full video! In it, I talk about the science of ideas and what you can do to develop your creativity. I hope it will help inspire you during your time in isolation.
Eureka! The Magical Science of Ideas
With Marissa Meyer
Posted on:
17th Apr 2020 /
Categorized:
Book Love
I'm joining the #Creators4Comics auction on Twitter to raise money for indie bookstores and comic shops! You can place your bid on any of the below items by commenting directly to the tweet.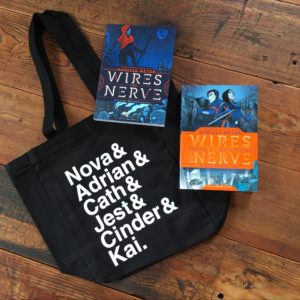 Auction 1: Signed Wires & Nerve + an OTP bag!
https://twitter.com/marissa_meyer/status/1250505019025010688
---
Auction 2: Signed Lunar Chronicles + an OTP bag!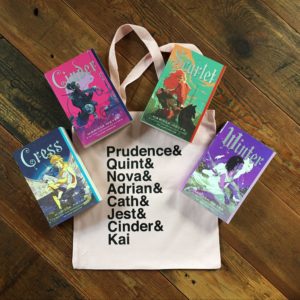 https://twitter.com/marissa_meyer/status/1250505365701050368
---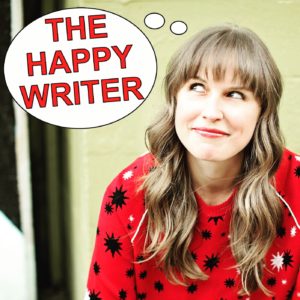 Auction 3: YOU could co-host the podcast, where you and I will interview one of your fav authors!
https://twitter.com/marissa_meyer/status/1250506335394779136
---
Open Internationally.
Ends Monday, April 20, at 12 PM EST.
Winner donates directly to @BincFoundation, then will send me their receipt to claim their prize.
Be sure to check out #Creators4Comics on Twitter for details and many more amazing auctions!
Posted on:
30th Mar 2020 /
Categorized:
Book Love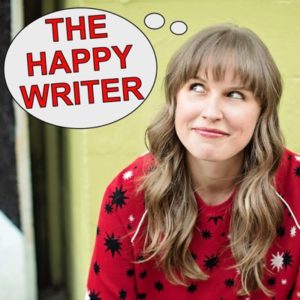 Hey readers! Exciting news: I've started a podcast! It's something I've been wanting to do for a while, and this season of COVID-19 felt like the right time to give it a shot.
In The Happy Writer Podcast, I'll be interviewing authors and talking about their books, their process, and different ways we can bring more joy into our writing journeys. I've had so much fun recording my first episodes and cannot wait to hear what you think!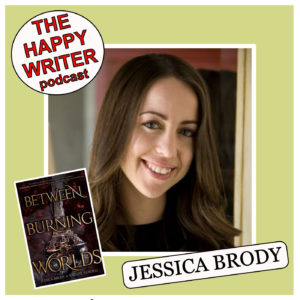 The first episode, where I chat with Jessica Brody about Book Two in her "Les Mis in Space" trilogy, BETWEEN BURNING WORLDS (co-written with Joanne Rendell), is already live. You can listen here or via these podcast-listening platforms:
Apple Podcasts
Google Podcasts
Spotify
Stitcher
(More coming soon!)
Please be sure to subscribe so you don't miss an episode!
You can also follow The Happy Writer on social media: Instagram, Twitter, Facebook
To celebrate the podcast launch, I'm also hosting a giveaway, where you can win an ARC of SKY WITHOUT STARS, signed by both Jessica Brody and Joanne Rendell, as well as a signed copy of CINDER and some fun swag! You can enter on the podcast page. Ends Thursday at midnight PST. Open internationally.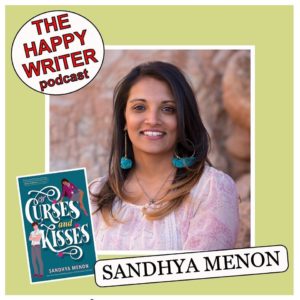 And stay tuned for Episode Two, in which Sandhya Menon talks about her new book, OF CURSES AND KISSES.
Happy listening!
Posted on:
4th Feb 2020 /
Categorized:
Cinder

It's finally here! The day when you can get your own copies of the *new* Lunar Chronicles paperbacks, redesigned with these amazing covers and stepbacks. Thanks to the Fierce Reads team and Tomer Hanuka for these amazing covers, adding a whole new dimension to the stories.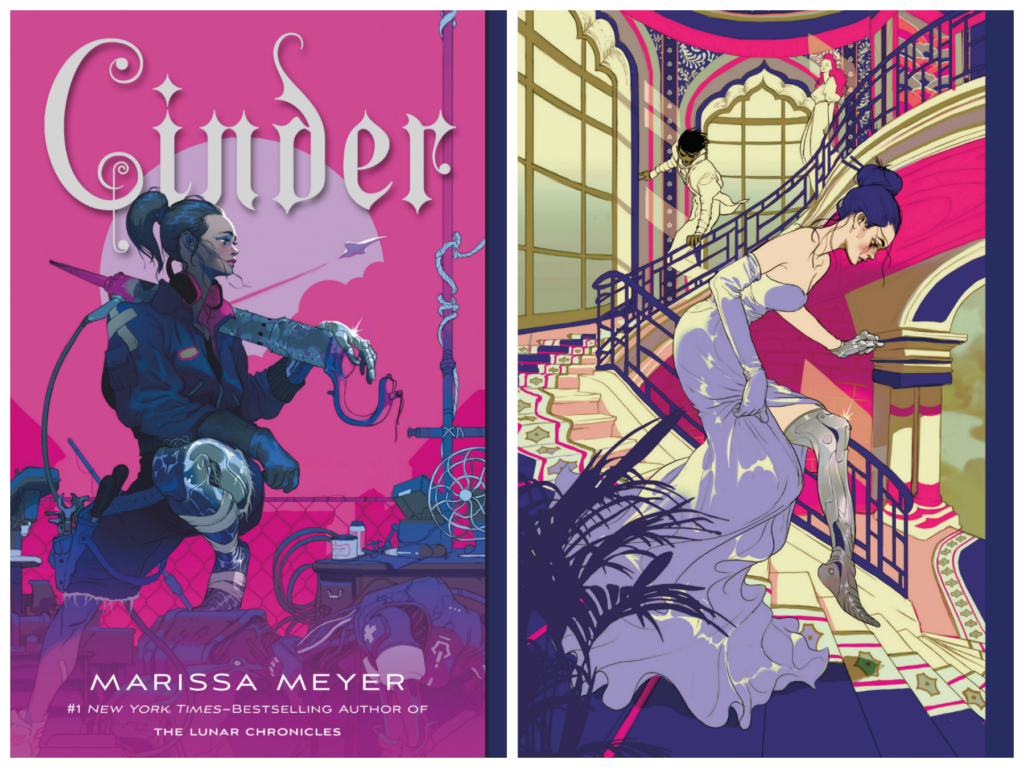 All retailer links are available at The Universe of Marissa Meyer.
Don't forget, I'll be touring starting later this month. Click through for all details and to get your tickets. Can't wait to see you on the Lunar Ever After tour!